Industrial Flooring Maine
INDUSTRIAL FLOORING MAINE
Welcome to the premier industrial source for Industrial Flooring in Maine. We offer a comprehensive range of Industrial Flooring, as well as a variety of related products and services. E P Floors Corp provides consulting and full service contracting of floors for all types of light and heavy duty manufacturing and processing facilities. Specializing in epoxy flooring and urethane mortar flooring, EPF is vertically integrated, providing manufacturing and installation. We provide true single source, turn key responsibility.
For over 30 years, EPF has specialized in seamless industrial flooring for manufacturing plants.  Utilizing epoxy and urethane flooring technology, we provide customized seamless floor solutions.  Through an extensive nationwide network, we can provide localized service throughout the U.S.
EPF is organized into five divisions.  Each division offers specialized flooring options.  These industries include Food Processing  and Beverage Flooring, Light and Heavy Duty Manufacturing, ESD and electronics, Hangars and Aerospace,  and Government/ Military.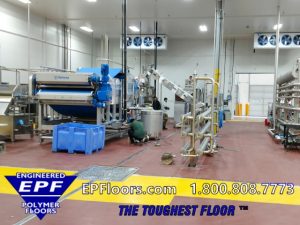 Areas we serve include:
https://www.EPFloors.com
For more information  about our industrial flooring Main services, contact a project estimator  at 1-800-808-7773 or info@EPFloors.com
TURN KEY SOLUTIONS
Our expertise includes all types of seamless epoxy flooring and urethane flooring solutions.
Since we're is vertically integrated, we are able to control all aspects of your floor project.  We provide expert concrete floor consulting, specification assistance, manufacturing, installation, and warranty.  This enables us to control quality every step of the way!
INDUSTRIAL FLOORING MATERIALS
EPF specializes in PUMA-CRETE®  urethane concrete flooring systems, and high performance epoxy floor coating systems. Our industrial flooring provides extreme durability, including abrasion, impact and scratch resistance.  These industrial floor coatings are also chemical resistant, easy to wash down and clean.  Custom slip resistant textures with our industrial grade flooring, provides a reliable surface, and a safe environment for your workers.