Food Processing Floors
Food processing floors must withstand some of the most difficult conditions! These severe conditions can put a heavy toll on conventional floors.  PUMA-CRETE® urethane floors were developed for these severe environments.   In contrast, epoxy flooring and other conventional floor materials routinely fail in these same conditions. PUMA-CRETE® specially developed for the food and beverage processing industry. These floors are tough, impact and abrasion resistant, chemical resistant, moisture and thermal shock tolerant.  They are truly "The Toughest Floors" !
EPF has been serving the food & beverage processing industry, for over 30 years.  Our floors are found in plants nationwide, wherever food and beverage products are handled, processed and stored. We are skilled in handling your floor project from A-Z, from budgeting to design, construction and warranty.  We control all aspects of your industrial flooring project, using our own company personnel and crews.  This guarantees a quality finished product! Specialty services include elimination of puddles, sloping floors to drains, new floor drains, concrete slabs and curbs.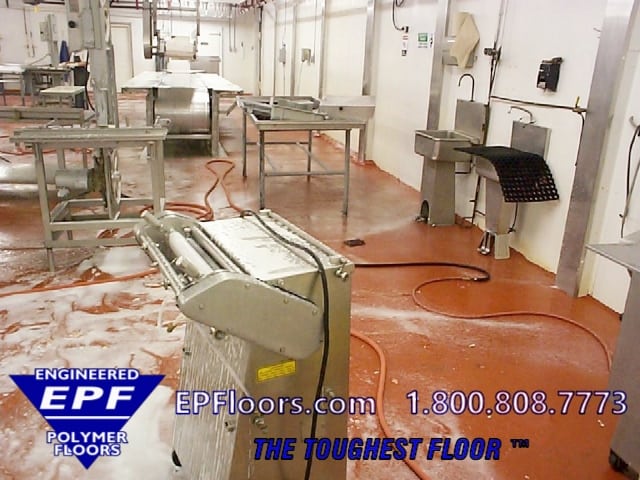 Common applications include coolers, kitchens, traffic aisles, tank areas, processing, packaging, truck bays, loading docks, warehouse, chemical storage.  Conditions may include heavy traffic, ingredient spillage including oils, sugars, hot/cold conditions such as coolers and ovens, hot spills, wetness and wash downs.
PUMA-CRETE® food processing floors handle all of these conditions and more.
Sanitizing, Inspections and Certifications for Food Plant Floors
FACT !  Almost every day, there is another product recalled in the U.S.!  Don't wait to be fined, shutdown or forced into a product recall!  If you don't believe us, click here for a link to current food recalls, and safety alerts…
PUMA-CRETE® food safe floors feature a dense, non-porous and hygienic surface.  Resistant to chemical sanitizers, the floor is easy to wash down and disinfect.  This food grade floor covering has no joints to trap dirt and bacteria, making it easier to keep plant floors clean.   Our food processing floors may be sloped to drains to prevent standing water from forming puddles and compromising sanitary regulations.  As a secondary level of protection, an additive dispersed in the material inhibits the growth of bacterial microorganisms, make it an antimicrobial floor.  Floors are USDA and SQF approved.
The seamless, non-porous floor finish is easy-to-clean….you will pass your inspections with flying colors!
Food and Beverage Floor Materials
PUMA-CRETE® is a heavy duty 1/4 inch troweled cementitious urethane floor. It has excellent durability for typical heavy tow motor traffic and impact in food processing plants.  It is abrasion, scrape and impact resistant.  Tables and totes with metal legs get dragged, pushed, pulled on our floors with hardly a scratch.  Hose clamps and hose slammed onto the floor often cause problems with most other floors.    This food processing floor system will last for many years under the same conditions where most others fail.
Our one pass version, HF, is screeded and troweled in one pass application. An optional top coat provides added stain resistance, and an easier to clean surface.  Optional polyaspartic top coat cures hard in 4 hours for wash down and heavy traffic.
Our flooring is commonly found in Meat Processing Plants, Dairies, Seafood, Bakeries, Fruit/Vegetable, Beverage, Nut Processing, Specialty Foods and other food processing plants.
Compare us to the Competition !
Top 10 Puma-Crete® Advantages
Thermal Shock Resistant Flooring
In contrast to conventional competitive systems, PUMA-CRETE® food safe flooring excels in extreme heat and cold. It resists both thermal shock and thermal cycling. Thermal shock includes wash down with hot water over 160 degrees F,  draining hot water tanks, or steam directed at the floor.   It handles heat from ovens and oil from fryers.  On the other extreme, it can handle the cold conditions in coolers, freezers, and even blast freezers.
Note:  3/8 inch thickness required in extreme thermal shock areas, such as liquid nitrogen spill areas.
Chemical Resistance for Food Processing Floors
PUMA-CRETE® industrial flooring withstands oxidizing agents, organic acids and CIP chemicals commonly found on food plant floors.  Many food ingredients such as sugars and oils break down, and erode concrete and other types of flooring.  Typical CIP cleaners including nitric and phosphoric acid, are often spilled at low concentrations.   Our flooring handles these chemicals.  In chemical storage areas, where concentrated chemicals may be spilled, we have special top coats to accommodate these type of spills.
Installation of EPF Food and Beverage Flooring
EPF is a one-stop food plant flooring company.  Here is how our process works; After detailed specifications are finalized and a contract is negotiated, the project moves to the next step.  EPF begins to carefully plan your floor project.   Management structure for your project includes project manager, site manager, team leader.  6-12 flooring technicians round out the team.   Scheduling is completed and then materials are manufactured and then shipped.  We ask our customer to complete a detailed "job readiness" form, which lists the site conditions such as availability of utilities, access to building and work areas. Plant, special safety and GMP rules are noted, and much more!
EPF has invested in over $1M of specialty surface prep and installation equipment for food manufacturing facilities.  Not only does this ensure that all of our surface prep equipment has vacuums systems to capture dust, but also that every installation proceeds smoothly, quickly and efficiently.  The surface prep is completed and the materials are applied.  Since time tested checklists are followed throughout the process, tight quality is maintained in the finished product. When the customer takes ownership of the new floor, he is provided with floor cleaning and care instructions.  A feedback rating form is left with the customer, for EPF management quality feedback on the installation.  The adjacent areas are cleaned up, and returned to original condition.
With turn key installation of PUMA-CRETE® by one of our own company crews, this heavy duty urethane floor finish is the last floor you will ever need !
Check out this brief overview of our food processing floors:
Slip Resistance for Food Processing Floors
Food and beverage plant floors can present many slip hazards, due to wet conditions, and/or spillage of food ingredients on the floors.  Oils or other slippery materials can cause slip fall accidents, injuries and lost work time.  An anti slip floor such as PUMA-CRETE® shall improve worker morale, productivity, and reduce accidents.   PUMA-CRETE®  has a permanent non-slip texture, that will not wear off.  The built in aggregate, dispersed through the full thickness of the floor, ensures that it will stay slip resistant for the life of the floor.
Cooler Floors for Food and Beverage Plants
Oftentimes, a floor must be installed at low temperature, inside a cooler.  This requires that flooring materials that will cure at temperatures as low as 35 degrees, or even sub freezing temperatures.  Our standard Puma-Crete food processing floors will cure down to 35 degrees F.  Optimally, we ask customers to set temperature between 40 to 50 degrees during the installation. This speeds the curing, prevents condensation on walls/ceilings, and is an optimal temperature for application of Puma-Crete inside coolers.
Freezer and Blast Freezer Applications
PUMA-CRETE® may be installed in freezers in blast freezers.  However, these areas must be brought up to floor temperature of 35 deg minim for several days.  After the flooring has cured, the system must be brought down no more than 10 degrees per day.  If the freezers must remain running, contact us for acrylic flooring options, which shall cure down to -40 deg F.
Our Puma-Crete systems offers distinct advantages over our competitors such as epoxy, mma, brick, tile, ucrete, tufco, flowcrete, stonhard and other systems commonly available.
For more information, including the color availability, technical properties, or other properties of our food and beverage floor systems, please contact the technical support team at our office at 1.800.808.7773
CUTTING EDGE, ECO FRIENDLY MATERIAL TECHNOLOGY in the following resin systems:
POLYURETHANE
EPOXY
POLYASPARTIC
POLYUREA
---
CUSTOMER FOCUSED
RELIABLE
ON TIME
ON BUDGET