Seafood Processing Plant Flooring Solutions
Seafood processing floors are exposed to extreme conditions. These fish and shellfish processing areas have mechanical abuse, thermal shock, bacteria and chemical attack, wetness, and sanitizers.  PUMA-CRETE® is a seamless urethane mortar floor.  It was designed for seafood and food processing facilities.  Furthermore, it is durable and tolerant of concrete floor moisture, wash downs, salts, chemical sanitizers and  cool conditions. Our seafood processing plant floors and urethane flooring is a long term solution for your food grade seafoood floor needs.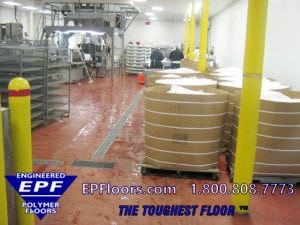 Most industrial flooring companies are simply manufacturers. This requires the buyer to coordinate two companies to work together. If an issue arises, they are pointing fingers at each other.  In contrast, EPF provides a turn key solution to your seafood floor needs. We control the entire project, from design specifications to completion.
We are a true single source flooring company with localized turn key installation throughout the U.S.  !
This includes concrete consulting and floor design services, materials manufacturing,  installation with our own company crews, and exclusive five year warranty. We have a track record with over 30 years experience, and thousands of of installations throughout the U.S. including Alaska, Central America and the Caribbean.  Your new flooring will be the last seafood floor that you shall need!
Puddles on your floors?  We offer slope to drain underlayments that will eliminate puddles.  Concrete slab installation, New Floor Drains, Curbs and more!
Seafood Floor Material Options
Seafood plants have many choices for flooring.  Food processing floors come in a wide variety of options.  Here are some food grade floor options,  which include Ucrete and Tufco.   Epoxy flooring, which has historically been used in seafood plants, is rarely installed nowadays.  New technology includes troweled urethane concrete mortars, for most facilities.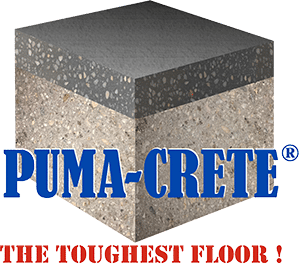 PUMA-CRETE® is a heavy duty 1/4″ to 3/8″ troweled urethane mortar floor, which cures down to 33 deg F.  Not only does PUMA-CRETE®  handle low temperatures in a typical seafood cooler environment, it also has an optional polyaspartic topcoat, which provides enhanced gloss, cleanability and surface that is stain resistant.  Full cure may be as fast as 4 hours, for fork lift traffic.  (At cold temperatures, curing shall be 6 hrs).
We have a process that enables us to often apply our flooring overlay brick and tile, without complete removal of the underlying floor. Contact our flooring consultant, for more information.
Installation of Seafood Processing Plant Floors
EPF is full service seafood flooring company. We handle all your flooring related needs, from A to Z.   We consult on your flooring issues, including existing floor deterioration, cracks, erosion, puddles, improper slope, and more.   Once you contract with us, we setup a project team consisting of Project Manager, Site Manager, Team Leader and 6-12 floor technicians.  Since we handle the design specifications, manufacturing and installation with our own crews, we have tight control on quality standards.
By following time tested installation checklists, our team is able to provide cookie cutter results on every project.  EPF has invested over $1M in surface prep and specialty installation equipment.  This enables our work to performed quickly and efficiently, while maintaining quality throughout the process. On time completion is always guaranteed.   Many of our installations can be completed with a fast turnaround.  Weekends, holidays, and other down time may be accommodated.
Our attention to detail creates repeat customers, for all their new business!
Durable Seafood Flooring
Seamless epoxy and urethane flooring are both used in seafood plants.  However, epoxy is only a short term solution, except in dry and warm areas of your facility.  However, most seafood plants have few of these types of areas.  PUMA-CRETE® excels in cool and wet condition. With a super durable finish, it can handle heavy fork truck traffic, impact, and the dragging, pushing and pulling of tables and totes.
Audits and Inspections of Seafood Floors
Designed for seafood and cold/wet processing food manufacturing conditions.  Puma-Crete® sanitary flooring is an important component of a HACCP compliance program. Similarly, it is USDA FDA FSIS approved and will assist with compliance for the FDA's Food Safety Modernization Act (FSMA).   Other industry certifications include IFS, FSSC 22000, and BRC.  Furthermore, it meets GFSI guidelines for SQF certification.
Cleaning and Sanitizing Seafood Processing Plant Floors
Seafood processors must be constantly on the alert for conditions which may be unsanitary.    With a seamless, non porous and dense finish, PUMA-CRETE® sanitary floors are super easy to wash down and sanitize.  Chemical resistant surface does not degrade from salt, chemicals, or heavy traffic conditions.  It serves as effective clean room flooring.
PUMA-CRETE® resurfacers are classified as antimicrobial. They will not support the growth of bacteria.
Thermal Shock Resistance of Seafood Flooring
Processors use flash freezing such as IQF, which uses liquid nitrogen.  Also freezers and coolers can create a cold/hot condition, called thermal shock or thermal cycling (hot to cold, cold to hot).  Puma-Crete® food safe flooring expands and contracts same rate as concrete.  Therefore, it does not crack or delaminate in thermal shock or cycling conditions.     For cryogenic areas, we recommend minimum of 3/8 inch thickness.
Check out this brief Seafood Flooring Video
Chemical Resistance for Seafood Processing
Salt is corrosive, and causes extensive damage to bare concrete. Processing floors and coolers need a chemical resistant floor finish, to protect the floors from salt and sanitizing chemicals.  Puma-Crete® cementitious urethane flooring handles all typical chemicals found in seafood processing environments.
Anti Slip Properties for Wet, Wash Down Areas
Puma-Crete® food grade flooring has a non slip texture, which provides superior traction in wet areas.   The texture provides grip for material handling equipment, foot and cart traffic. Texture may be customized for special applications, or different sections of the facility.
For more information on our PUMA-CRETE® seafood flooring, please contact a project consultant, for further information at 800-808-7773