EPF specializes in troweled flooring for food processing  facilities and epoxy floor systems.  These plants  require food grade flooring systems, and FDA approvals.  Our PUMA-CRETE®  troweled flooring has been developed for food processing floors, as well as beverage flooring.  This is a seamless, urethane mortar floor.  It is designed for the punishing conditions, typically found in food and beverage processing facilities and other large areas.  EPF provides a true single source solution for flooring in processing plants.  This includes expert floor consultants, specification assistance, material manufacturing, installation and warranty.   We control all aspects of the project, to ensure a quality finished product.  We also provide slope to drain flooring, concrete slabs, floor drains, curbs, and other services.  All work is performed with our own company crews.
EPF provides turn key design and installation of high performance PUMA-CRETE® food industry flooring.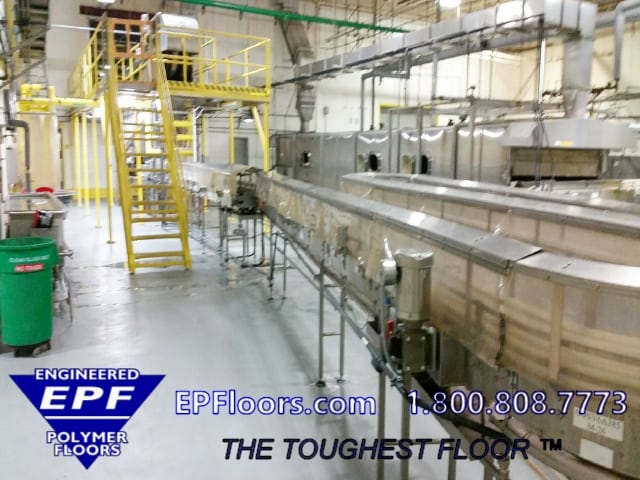 EPF works with both epoxy and urethane flooring products. Our PUMA-CRETE® urethane flooring has an appearance similar to epoxy flooring. However, epoxy is not recommended for most areas inside a food processing facility.
We can install over properly prepared concrete, and in many cases, overlay brick and tile.  This material is a durable, sanitary, and antimicrobial flooring .    It is designed for the punishing conditions, typically found in food processing facilities.
SLOPE TO DRAIN
A optional  slope to drain underlayment can ensure that liquids drain properly, preventing puddles and bacterial concerns.
APPEARANCE
PUMA-CRETE®  troweled epoxy floor topping provides a quality, tough and attractive finish for customer tours, and other VIP personnel.
PUMA-CRETE® is the perfect solution for areas which have high impact, spalls, holes, cracks, and chemical spillage, then our troweled urethane and epoxy flooring has the protective qualities needed for all industrial facilities. In addition to heavy traffic, chemicals, and thermal shock, our flooring is USDA approved flooring, and anti microbial as well.
CHEMICAL RESISTANCE
The floors in food and beverage processing industries are exposed to various types of harsh ingredients and sanitizers.    Troweled PUMA-CRETE® flooring withstands food ingredients such as hot oils, sugars, CIP and cleaning chemicals, which can be very corrosive.
SLIP RESISTANCE
Troweled PUMA-CRETE® floors feature a slip resistant surface for safety.  Texture can be adjusted lower for dry areas;  maximum texture may be installed, for oily, greasy, or other types of wet areas requiring ultra slip resistance.
INSTALLATION
Turn-key floor installation by our own crews .  EPF has been servicing food and beverage processing customers, nationwide, for over 30 years.
There are many advantages of our Troweled Flooring including:
Long lasting, anti-microbial, hygienic finish.
Seamless, easy to clean
Thermal shock resistant
Tolerant of cold, moist conditions.
Slip resistance
PUMA-CRETE®  urethane troweled floors are available in standard Red and Gray, and are available in 14 premium colors.
E P Floors Corp. is a vertically integrated firm, providing expert flooring and concrete consultation services. We can furnish PUMA-CRETE® materials and turn-key professional installation.with our own crews. We also offer a solid single source, five year warranty.
For a quotation, or more information on EPF's troweled flooring for food processing plants,  including the color availability, technical properties, or other properties of any of our systems, please contact our technical support team at 800.808.7773