PUMA-CRETE: The Best Solution for Food Processing Floors Connecticut
PUMA-CRETE: The Best Solution for Food Processing Floors Connecticut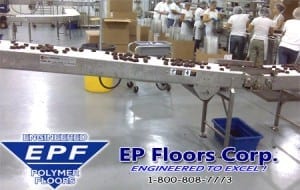 The industrial food processing facilities are prone to cold/damp conditions, heavy traffic, hot wash downs with chemical sanitizers, thermal shock, and slippery floors.
With PUMA-CRETE HF, EP Floors Corp. is providing the best solution for these facilities. It is a heavy duty, single-pass troweled urethane mortar. It is designed for the harshest conditions in these types of facilities. PUMA-CRETE HF has a permanent slip resistant texture, handles heavy traffic, is seamless, sanitary and chemical resistant! This system shall help your facility pass USDA/FSIS inspections with flying colors! We ensure you that PUMA-CRETE shall be the last floor you will ever need for food processing floor CT because it is the toughest floor.
EP Floors Corp. is vertically integrated, provided a true turn-key installation for food processing floor Connecticut. We provide the materials, installation with our own crews, and a solid warranty.
We all know that meat plant flooring must endure extremely harsh conditions. The requirements for a long lasting floor system are chemical resistant, easy-to-clean surface, durability, high strength must withstand heavy wheeled loads, heavy foot traffic, and thermal Shock resistant, hygienic conditions, slip resistance, etc. With this regard, EP Floors Corp. has the solution to these challenges and PUMA-CRETE HF is designed for the harshest conditions in meat processing facilities.
About EP Floors Corp.:
EP Floors provide USDA approved meat processing floors and poultry processing floors, as well as processing floors for all types of food & beverage processing facilities.
For more information, contact EP Floors Corp. at 1-800-808-7773, craig86575@gmail.com, or on the
web at http://www.EPFloors.com