INDUSTRIAL FLOORING NEW HAMPSHIRE, NH
INDUSTRIAL FLOORING NEW HAMPSHIRE, NH
Welcome to the premier industrial hotspot for Industrial Flooring in New Hampshire. We offer an exhaustive scope of Industrial Flooring, flooring installation, epoxy floor coatings, and in addition a mixed bag of related items and administrations.
EP Floors is your your best decision for modern ground surface in the New Hampshire region and guarantee the best job, every time! We are among the top flooring contractors in commercial flooring systems. We have the experience, the information, the aptitudes and the hardware to take care of business right and quick.
We offer numerous flooring solutions, for example:
⦁ Epoxy Coating Systems
⦁ Epoxy Mortar Resurfacing Systems
⦁ Urethane Concrete Systems
⦁ Concrete Preparation & Polishing
⦁ ESD / Conductive / Dissipative
⦁ Decorative / Clean Room Systems
We are committed to discovering durable and financially savvy answers for your flooring issues. All of our flooring systems are high performance, easy to clean, and surpass industry standards in safety and reliability. We are specialists in the field of industrial flooring and have the experience and learning to settle your issues. Work with the best in industrial flooring New Hampshire professionals!
Basic issues & answers for flooring at food processing facilities, restaurants, engineering plants, pharmaceutical labs, production manufacturing warehouses & more. We know your industry and will tailor your ground surface venture to your needs and concerns.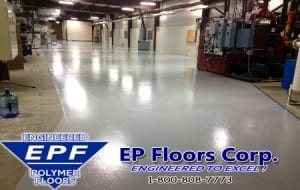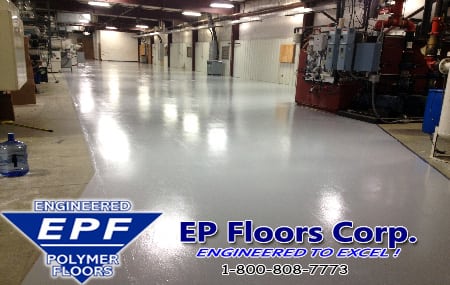 See for yourself why more individuals in Massachusetts, New Hampshire, and Rhode Island trust EP Floors for their ground surface needs.
About EP Floors Corp.
For more information on EP Floors: https://www.EPFloors.com
EP Floors provides consulting and full service contracting of floors for all types of light and heavy duty manufacturing and processing facilities. Specializing in Industrial Flooring New Hampshire, NH and urethane mortar flooring, EP Floors is vertically integrated, providing manufacturing and installation…true single source, turn key responsibility.
For more information contact Robert at 1-800-808-7773 or by email at rlong@EPFloors.com