INDUSTRIAL FLOORING RHODE ISLAND RI
INDUSTRIAL FLOORING    RHODE ISLAND RI
E P Floors Corp specializes in Industrial Flooring, and offers services including urethane flooring, and epoxy flooring throughout Rhode Island.  We have sales offices throughout the United States.   EPF is a leader in customized industrial floor solutions and  concrete resurfacing for manufacturing facilities.  With over 30 years of experience, EPF offer's full service consulting, concrete testing, flooring manufacturing, and concrete contracting/installation.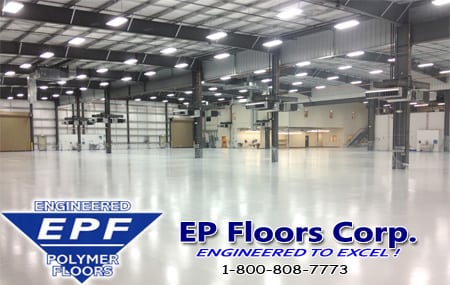 EPF has the experience you can count on.  We have installed tens of millions of square feet of various industrial flooring types, throughout Rhode Island and the country. From fortune 500 companies to small business manufacturing, EPF has thousands of satisfied customers.
Industries served include:
General Manufacturing Facilities, Food Processing, Beverage and Brewery, ESD Anti-Static & Conductive, Aerospace, Clean Rooms, and Government/Military.
We can handle all types of renovation or new construction challenges…READ MORE
Contact us today for a quotation !    Contact Page
EPF offers numerous industrial flooring options, which provide:
cleanability

aesthetics

durability

slip resistance

chemical resistance
…or a combination of all of the above.   EPF has a system to meet your needs.  Both industrial flooring epoxy and urethane systems are available…from thin film industrial floor coatings to 3/4″ troweled epoxy flooring  and troweled urethane mortar flooring, EPF has the right solutions for your facility!
Is your company moving to a new facility?           We are plant relocation specialists !
RE-LOCATION SERVICES
Consulting with the customer, thorough inspection of the facilities, and estimation of costs to install new industrial floor coatings, suitable for customer's new operations.  Evaluation of the industrial flooring concrete substrate shall include inspection for structural concrete issues, floor levelness and/or slope, condition of drains (if any), expansion, isolation, control joints.  If there is existing coating or layers of coatings or toppings, determination of proper surface removal operations shall be required.  Concrete moisture testing, evaluation of oil or chemical contamination, hardness of the concrete surface, strength of the concrete, quality of the concrete condition, and sub surface layers may be required; gravel, backfill, insulation board, or other factors may affect our recommendations and costs for the project.
APPLICATIONS
From all types of general manufacturing facilities, food processing, brewery and beverage processing, aerospace, clean rooms, ESD anti-static and conductive floors, and government/military projects, EPF has an epoxy floor or urethane floor system to meet your needs.
note:  EPF does not install industrial flooring for homes, industrial flooring vinyl, or industrial flooring tiles.
INDUSTRIAL FLOORING RHODE ISLAND WARRANTY
EPF stands behind our work. Our motto is "once and done".  However, we understand there are circumstances requiring minor touchup, or situations where accidents can occur on the new flooring, causing damage.  Repair kits are available for self "touch up".    All EPF industrial flooring materials and labor are warrantied from 3 to 5 years (depending on system specified).
THE EPF INDUSTRIAL FLOORING SELECTION PROCESS
Conduct a thorough "needs analysis" of all existing areas including:  type of operations (includes impact, abrasion, types of wheeled traffic, cleaning procedures), as well as condition of existing floors, and alloted turnaround time for the project.
Operational analysis of the flooring installation, including:   safety and customer PPE requirements, access to the areas for materials and equipment, staging area, lighting, temperature, moisture conditions, customer operations in adjacent areas, trash removal, etc.
Evaluate concrete moisture vapor transmission and general moisture and chemical conditions within the areas, and adjacent areas.
Determine requirements for proper transitions into adjacent rooms, other edges that shall be keyed/locked into the concrete, junction of floor/wall transitions (integral cove base).
Texture of finished flooring?  Does customer need high level of slip resistance, smooth surface, orange peel texture, or other customized surface?
INSTALLATION OF EPF INDUSTRIAL FLOORING

All of our flooring products are applied by our professional installation crews.  EPF's  installation teams perform extensive surface preparation, including diamond grinding, shot blasting, scarifying. All of our equipment has integral vacuums for (with 99.9% dust extraction), per OSHA's new respirable crystalline silica standards.  Next, as needed, our team fills cracks, restore damaged joints, and repair damaged concrete surfaces.
Our flooring systems include industrial floor coatings, as well as troweled Puma-Crete heavy duty mortar systems (for extremely worn surfaces, or heavy traffic conditions).  In addition to manufacturing, we also partner with other leading epoxy and urethane manufacturers such as Sherwin Williams, General Polymers, and Dur-A-Flex.
The quality of our work has customers returning to us for repeat business, and new areas, as their facilities grow.  Downtime is minimized for our installations, and fast expert turnaround is guaranteed!
Benefits of our Heavy Duty Industrial Floor Coatings include:
Low life cycle costs.
Turn Key installation with our company crews.
Excellent wear resistance, with mortars capable of handling heavy traffic and abuse.
Easy to clean surfaces, with customized textures
Very low odor during installation (will not disrupt operations)
Attractive high gloss and satin finishes available.
Read about our recent industrial flooring project at Lord Hobo Brewery !
SELECT ONE OF OUR INDUSTRIAL FLOORS DIVISIONS
About EP Floors Corp.
E P Floors Corp is certified by ISN, global leader in contractor and supply management review and verification systems (RAVS).
Providence, Rhode Island
Southern New England
For more information about EPF's industrial flooring systems, contact:
Sean Mitchell Phone:  1-800-808-7773 x114        E-mail: smitchell@EPFloors.com         http://www.EPFloors.com           Contact us today for a quotation !    Contact Page