HOW TO CHOOSE AN EPOXY FLOOR SYSTEM FOR MANUFACTURING
When choosing an epoxy floor coating system and contractor for your manufacturing facility, it is advisable to select a customized system for your areas.  The primary goal for some areas may be enhanced cleanability and aesthetics, while other areas may require maximum durability, impact resistance, or thermal shock resistance.  Each area would require a different combination of materials, layers, and topcoat/finishes.
E P Floors Corp. is a leading U.S. manufacturer and installer of PumaCRETE epoxy floor coating and high performance urethane floor coating systems, specializing in manufacturing facilities. Our customers are industry leaders in high tech manufacturing, food & beverage, electronics, aerospace, aircraft hangars, pharmaceutical/biotech, chemical processing, and more! We are a vertically integrated epoxy floor coating company, providing the materials, installation with our own company crews, and a solid warranty. We are a flooring contractor specializing in customized epoxy coatings for concrete floors, throughout the United States and limited international locations.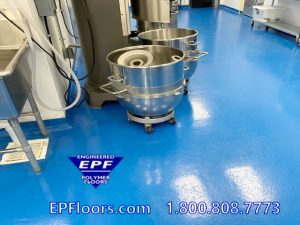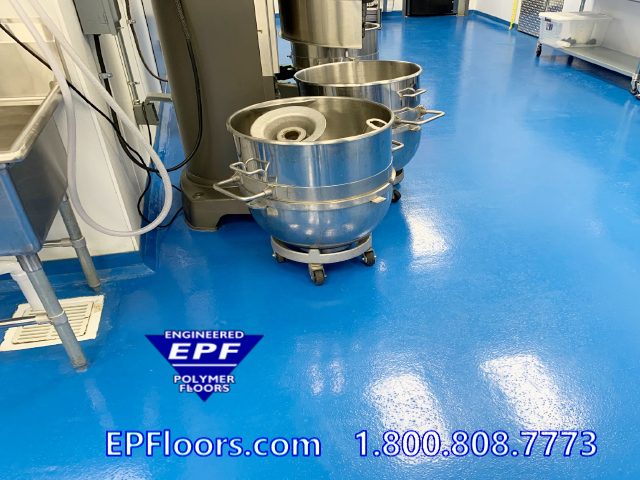 Our polyurethane flooring & epoxy floor coatings enhance productivity, worker morale, and help ensure compliance with important industry quality standards. From urethane concrete mortar systems, to epoxy floor coating systems to heavy duty trowelled toppings, we customize the solution to meet the needs of your area/facility. Our seamless resinous flooring features include enhanced durability & abrasion resistance, chemical resistance, non-porous, sanitary, and attractive easy-to-clean finish. Options include: anti static/conductive, slope-to-drains, moisture mitigation systems for high moisture vapor emission concrete slabs, USDA/FDA approved systems, skid resistant textures, and hangar flooring.
This video examines the flooring needs for specific manufacturing industries…
ABOUT E P FLOORS CORP.
For more information on E P Floors:   https://www.EPFloors.com
E P Floors provides consulting and full service contracting of floors for all types of light and heavy duty manufacturing and processing facilities.  Services includes slot drain installation, slope to drain flooring and much more.   Specializing in PumaCRETE flooring  for over 30 years, EPF has provided a tradition of quality.  We provide a turn-key installation and localized service throughout the U.S., with our fleet of company crews.  EPF has invested in over $1M of surface preparation equipment, utilizing the latest dust-minimization technologies, and ensuring fast and efficient turnaround time.  You can rest assure that the system we recommend shall be the most reliable and cost-effective for your facility.
For more information contact an EPF project estimator at  1-800-808-7773    or by email at      info@EPFloors.com