Produce Flooring
Fruit, Vegetable, Juice Processing
EPF developed PUMA-CRETE® produce flooring for fruit, vegetable and juice processors.  The floors in these facilities are exposed to extreme conditions.  There is punishing power lift traffic including impact, dragging and scraping.   Wet and cool conditions create thermal shock and cycling, along with chemical and bacterial attack 24/7.  PUMA-CRETE® is your heavy duty floor solution.  It is a seamless urethane mortar floor, designed for the damp and cool conditions found in food and beverage coolers and processing areas.
For over 30 years, EPF has served the vegetable, fruit and juice processing industries, throughout the U.S.  We offer tight controls on the entire process.  This includes expert consulting and specification assistance, manufacturing of materials, and installation with our own company crews.  Our process maintains quality every step of the way!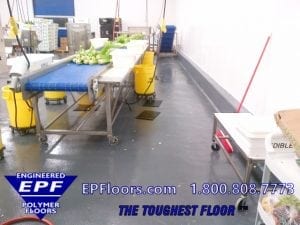 EPF is a vertically integrated company, which enables us to provide A-Z flooring services for vegetable, fruit and juice processing companies. Our expert flooring consultants provide comprehensive industrial flooring solutions for your concrete floors.
Services include elimination of puddles ( slope to drain flooring),  floor drains, concrete slabs and curbs, and more!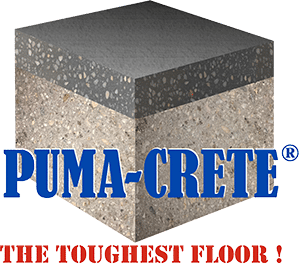 PUMA-CRETE®  floors were developed for food safe areas and food manufacturing floors. They are recommended in produce processing areas and coolers, as well as juice and beverage processing areas.  These troweled food processing floors are available in one or two pass versions. Installations may be completed in as little as 24 hour turnaround.
Over the years, both epoxy and urethane floors have been used in food and beverage plants. PUMA-CRETE® seamless urethane flooring is similar in appearance to epoxy floor materials.   However, epoxy does not last for more than a few months in damp coolers, or most areas in food processing facilities. Read more here, for floor material options in vegetable, fruit and juice processing plants.
PUMA-CRETE®  is typically applied at 1/4 inch thickness.  This urethane concrete flooring has outstanding longevity and cost effectiveness.  At an installed cost of $8-12/ sq foot, this system will often provide 15-20 years of good service.  It will be the last floor that you will ever need !
Safety Audits, Inspections, and Certifications
With its easy to clean, sanitary finish, PUMA-CRETE® produce flooring helps your plant meet strict quality guidelines.  It meets standards set by the Food Safety Modernization Act (FSMA), SQF approved  and is USDA approved.    It also assists with your HACCP compliance program, and meets GFSI guidelines for SQF certification.  PUMA-CRETE®  meets certification requirements set by other food safety audit agencies including  IFS, FSSC 22000, and BRC. This seamless, non porous floor finish is easy-to-clean, and you will pass your inspections with flying colors!
Antimicrobial and Sanitary Floor Finish
PUMA-CRETE® is antimicrobial… it inhibits the growth of bacteria, and features a hygienic, sanitary surface. It serves as an effective clean room floor, for facilities with maximum cleanliness requirements.  With an optional integral cove base to seal the floor/wall junction, it provides a "bathtub" effect for cleaning and sanitation.
Thermal Shock and Thermal Cycling
Beverage flooring and other vegetable and fruit processing floors, often experience thermal expansion and contraction.  This is caused by cool conditions with hot water, hot spills, or transitioning from cold to hot, or hot to cold. PUMA-CRETE® flooring handles these conditions, without cracking or delamination.
Durability
PUMA-CRETE® flooring is resistant to damage caused by impact, abrasion, and other types of mechanical abuse.  The material is suitable for heavy fork lift traffic areas, including refrigerated loading dock floors, and warehouse floors.
Installation of PUMA-CRETE®
Installation of PUMA-CRETE® is performed by our own professional company crews.   Crews follow rigid installation checklists, which ensures quality results, every step of the process.  Over $1M has been invested in surface prep and installation equipment, which minimizes dust generation, and enables installations to be performed with fast turnaround, and little effect for ongoing operations.
We are even able to resurface tiles and bricks, in many circumstances.  Contact one of our project estimators, for more information.
Watch our brief video on PUMA-CRETE® Produce Flooring
Slip Resistance
vegetable and fruit processing floors feature a slip resistant surface.  The anti slip properties are "built in" to the system, so that the floors do not lose their non skid properties.
Chemical Resistant Properties
PUMA-CRETE® is chemical resistant  against typical sanitizers and cleaning agents used in vegetable, fruit and juice processing areas.  For facilities with CIP sanitizing operations, our flooring is suitable in concentrated chemical storage areas.
For more information on our Puma-Crete® produce flooring, please contact a project consultant, for further information at 800-808-7773