THE ORIGINAL SLOT DRAIN®
Over the past three decades, Slot Drain® has been specified by architects and engineers throughout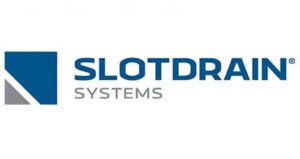 North America.   Slot drains® are utilized in USDA inspected food and beverage manufacturing facilities, as well as other industrial and manufacturing facilities.  Some of these industries include:  breweries, wineries and other beverage sectors, as well as meat, dairy, seafood, specialty foods, bakeries, and more.
ADVANTAGES of SANITARY SLOT DRAINS®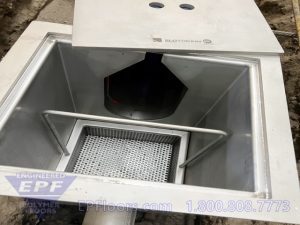 Conventional industrial drains have grates, which mostly serve as support for traffic passing over the drains.  Sanitary slot drains® eliminate these cumbersome grates.  They have a highly effective basin and large strainer basket (with ½" perforations) at the end of each run.  The strainer basket prevents clogs, and helps ensure the slot drain® system is always working at full capacity.   Slot drains are perfectly suited for retrofit/renovation projects.  Sections are modular, with 1/16″ slope from one end, to the basin.
Why is Slot Drain® the most sanitary drain?
SLOT DRAIN® DURABILITY FOR HEAVY TRAFFIC
Slot Drain has 2 heavy forklift capable versions, for high flow or medium flow applications. These can handle many types of heavy traffic conditions.  (see below for specifications)
Slot Drain® Sections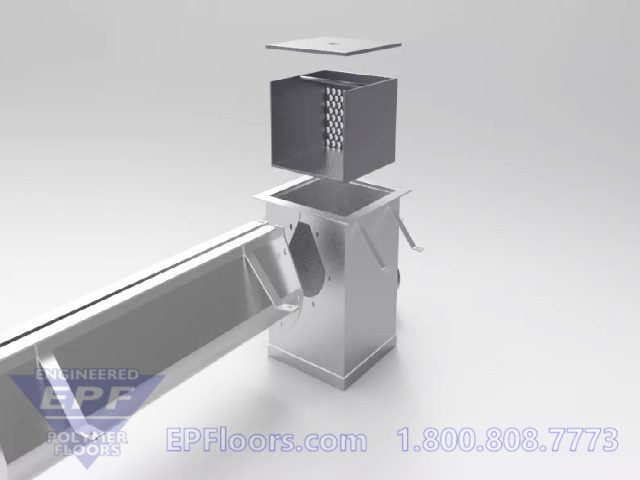 SLOT DRAIN®  SALES
E P Floors Corp. can provide EXPERT consultation on your drain layout, to minimize costs, while ensuring thorough drainage.  We can also furnish the components necessary for your complete system.
Call us at 800-808-7773 or fill out our email contact form
SLOT DRAIN® INSTALLATION (serving the U.S.)  
E P Floors Corp. is a certified U.S. SLOT DRAIN® distributor and installer.
EPF can handle the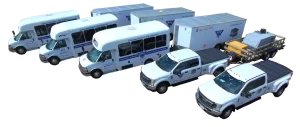 installation of your slot drain system, from A-Z.
Saw Cut Concrete
Remove concrete
Excavation for the slot drain.
Install rebar anchors and set the slot drains.
Install plumbing for slot drain (to existing drain outlet in customer's facility).
Re-pour and finish the concrete.

TURNKEY DRAINS, SLOPING & pumaCRETE FLOOR FINISH

Since we are vertically integrated, we can handle all of your food or beverage processing floor needs…this includes slot drain installation, slope to drain flooring (if needed), and pumaACRETE urethane cement floor finishes.  A-Z service, turnkey with professional installation with our own crews, along with a solid, single source warranty.
TOTAL TURNKEY SOLUTION
SLOT DRAIN® sales, service and installation.
pumaCRETE Slope to drain flooring
SLOT DRAIN DESIGN
Built-in sloped walls and pre-sloped drain channel
Smooth edges and rounded corners inside the drain
Has fully welded joints
STAINLESS STEEL
The strainer basket and catch basin are both made of durable stainless steel and are designed to last for the life of your drainage system. Catch basins include a reinforced cover made from stainless steel and rebar tie-ins, which can easily withstand heavy load capacities.
Slot Drain with PumaCRETE® urethane floor

CLEANING SLOT DRAINS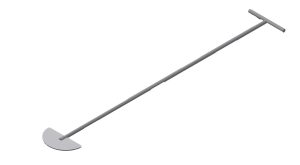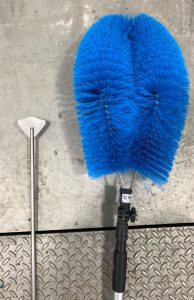 The cleaning process is quite simple.  At the end of each shift, simply use the cleaning paddle..you just insert the paddle, twist 90 degrees and move it along the drain to clear the debris…simply "sweep" the debris down the length of the drain, into the basket.  Lift out the basket, and empty.
Slot drains® may be sanitized with the cleaning brush, which fits into the slot and is capable of scrubbing the interior of the drain.
HISTORY OF SLOT DRAIN®
The invention of slot drain® over 35 years ago, solved the issues of reducing drain installation costs, bacterial concerns, maintenance costs, and worker health considerations.  Slot Drain® was the world's first grate-less trench drain solution, allowing for the same drainage performance without the hassles of a grated trench.
Slot Drain® was the first pre-sloped, prefabricated drain system. The sturdy, load bearing design of Slot Drain® can handle machinery, fork lifts and vehicle weight, with no need to constantly replace costly grating.
Keep your facility safe and production efficiency high!
Overview of Slot Drain System
SLOT DRAIN SPECIFICATIONS
Section Lengths:   Full 9'8", Half 4'10"
Slot Opening:   1 inch standard.     (also available in  ½" (ADA Compliant) and 1 ¼")
Flow Rate: 
½"     11 gpm (per foot of drain)
1″       18 gpm  (per foot of drain)   Standard Size
1 ¼"  27 gpm (per foot of drain)
Materials:   T304 Stainless Steel, T316 Stainless Steel
Load Classes:   C (6000 plus),    E (10,000 series) heaviest rating, for heavy forklift traffic  
Slope:   Drain channels are built with a 0.5% slope (1/16" per foot)    Inverts start at 2 3/4".
Pits and Junction Boxes:  90° and 45° elbows; allow the drain to virtually go anywhere it is desired
SLOT DRAIN VERSIONS
6000 plus  (standard version)
6000 plus R  (medium duty forklift rating- load class C)
10,000 Series (heavy forklift rated, heavy flow- load class E)
APPLICATIONS:  
FOOD and BEVERAGE PROCESSING
BREWERIES
WINERIES
MEAT & POULTRY PROCESSING
SEAFOOD PROCESSING
BAKERIES
PREPARED SPECIALTY FOODS
INDUSTRIAL AND MANUFACTURING
FOODSAFE DRAINS- Trench and Area Drains