Cheese and dairy facilities have tough conditions for flooring.  These include thermal shock, corrosion, damp conditions, heavy impact and traffic.  PUMA-CRETE® dairy flooring is a seamless troweled urethane mortar, developed for the dairy industry. EPF has over 30 years of food grade flooring experience in cheese and dairy plants throughout the U.S.  We are a single source solution for dairy flooring.  This includes expert floor consulting, specification assistance, manufacturing, application and exclusive EPF 5 year warranty!
Additional services include slope to drain flooring, floor drains, concrete slabs, curbs and more.  In many instances, we can even apply PUMA-CRETE® flooring over brick and tile!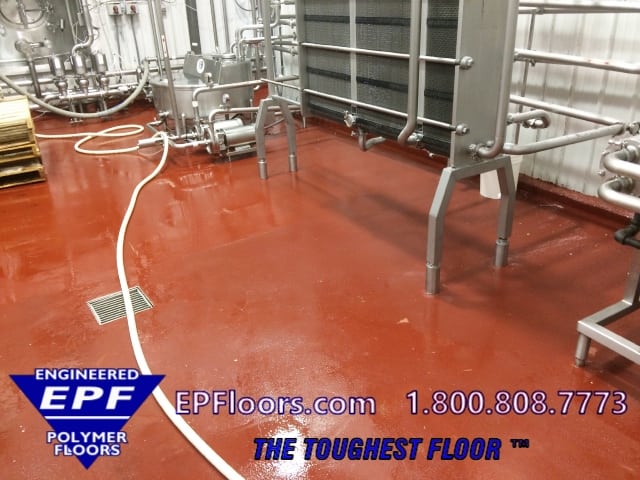 PUMA-CRETE® industrial flooring excels in typical dairy conditions including mechanical abuse from punishing impact and traffic, thermal shock and thermal cycling, chemicals including CIP sanitizing chemicals, bacterial attack, and wet and/or cold conditions. A slip resistant texture reduces slip accidents.
We are fast turnaround specialists, with complete turnaround in as little as 18 hours. PUMA-CRETE® will be the last floor you will need !
Turn Key Dairy Flooring
Since EPF is vertically integrated, we manufacture PUMA-CRETE® dairy flooring, and install with our own company crews.   The typical system is cost effective, an excellent return on investment at $8 to 12 per sq foot installed (depending on the size of the area, and conditions).
Dairy Flooring Material Options
There are many food safe floor options to choose from, for your dairy flooring.  Here are some dairy flooring options.  Compare us to Ucrete and Tufco.  Also, note that epoxy and urethane floors are not the same.  Epoxy flooring is a type of material. Dont be confused.  It looks the same as urethane flooring, but does not last in wet processing areas.
Download our Brochure for Dairies !
Top 10 PUMA-CRETE  Advantages
PUMA-CRETE® HF and HFB are water based 1/4 to 3/8 inch, troweled cementitious urethane floors.  They are available in a one or two pass version. The materials are virtually odor free (Dairy processors need not worry about odor getting into their product or ingredients, while a floor is being installed).  The flooring is moisture tolerant, which allows it to be installed over damp concrete (We ask customers to help to minimize water leaks as much as possible, during the installation). Materials cure down to 35 degree F.
Our two pass system, called HFB, incorporates a broadcast silica layer, with a liquid applied polymeric lock coat.  The lock coat provides a glossy, stain resistant, more cleanable finish.  This top coat is available in polyaspartic version, which dries hard and chemical resistant in 4 hours, at 70 degrees F. Our single pass system, HF, is troweled flooring for food processing. It can fill deep holes, and restore a rough, damaged floor.
FAST TURNAROUND DAIRY FLOORING
We offer optional top coatings, which have 4 hour full cure.  After 4 hours, it would be ready for heavy traffic and chemical wash down.   In many situations, PUMA-CRETE® can be applied over brick or tile.  In cases where brick or tile removal is needed, we can accomplish that as well.  Contact a project estimator to discuss your specific needs. Other options include sloping to drains, new floor drains, new slabs, curbs and cove base.
Sanitary Flooring for Inspections and Audits
PUMA-CRETE®  flooring helps your plant meet strict quality guidelines, mandated by the Food Safety Modernization Act (FSMA).  Our seamless sanitary flooring  is compliant with FDA and FSIS inspections.  It is USDA approved flooring, and meets GFSI guidelines for SQF approval. It also meets certification requirements for IFS, FSSC 22000 and BRC.      This dense, non porous dairy floor finish is easy-to-clean.  This will be the last floor you shall ever need to install, to comply with all food safety audits.   You will pass your inspections with flying colors!
Antimicrobial and Cleaning Properties of PUMA-CRETE®
PUMA-CRETE® food safe flooring is an antimicrobial floor.  It does NOT promote the growth of bacteria.  In fact, the antimicrobial additive within the system inhibits growth of bacterial organisms.  Along with a floor that is easy to wash down, sanitize and easy to clean, the antimicrobial properties provide a secondary level of protection against pathogens such as listeria. This seamless poured floor has no joints to harbor dirt or bacteria.  PUMA-CRETE® HFB  is stain resistant,with an easy to clean satin finish.  It can also serve as durable clean room flooring for ultra clean RTE areas.
Thermal Shock Floors in Dairies
Typical conditions in dairy facilities may be at both extremes;  cold conditions in the dairy coolers, with warm conditions in the processing and raw milk and intake side. This creates potential for thermal shock, and thermal cycling in the floors, for all areas of the plant.  Traditionally, the old school approach would be to install brick flooring, since brick handles the thermal shock extremely well.  Epoxy flooring, on the other hand, is sensitive to thermal shock.    This scenario created an opportunity for PUMA-CRETE®, a urethane concrete floor. It handles hot wash downs in coolers, while also handling live steam and hot wash down of the floors in the remainder of the plant.  In contrast to brick, PUMA-CRETE® flooring is perfectly designed for renovation projects.  It can be installed around legs of equipment, under tanks, and other areas with low clearance.
Chemical Resistant Dairy Flooring
Dairy processing floors are exposed to aggressive acids and alkaline chemical cleaners, including aggressive CIP chemicals.  Our flooring handles corrosive acids such as nitric and phosphoric acid, at concentrations typically found in processing and chemical storage areas.  Additionally, milk and other ingredients break down on the floor, forming acidic byproducts which can damage concrete. PUMA-CRETE® flooring protects your concrete from oils and chemical deterioration, while handling impact, abrasion and thermal cycling. In contrast to acrylic, epoxy, and other conventional seamless flooring, PUMA-CRETE® floors are designed for maximum corrosion resistance!
Permanent Non Slip Texture Dairy Floors
Wet dairy cooler flooring can present a slip issue, which can lead to serious injuries and lawsuits. PUMA-CRETE® floors maintain excellent slip resistance properties for the life of the floor.  Anti slip aggregate is "built in" through the full thickness of the floor.  As the floor wears over the years, new aggregate is exposed, provided unlimited anti slip properties.  A textured floor surface can enhance productivity, and boost worker morale.  Additionally, textures can be customized to provide an optimum combination of cleanability, and slip resistance, especially in loading docks where crates must be manually slid across the floors.
Check out this brief video on PUMA-CRETE® dairy flooring.
Installation of Dairy Flooring
EPF handles every aspect of your floor project from A-Z, with our own forces. This controls quality, for long lasting performance. EPF provides turn key materials, installation with our own crews, and a solid five year warranty. Our installation process begins with proper planning.  A job readiness form is completed, which reviews the conditions at the facility.  This includes extensive detail of available power, access to the building, staging area, adjacent operations, and much much more.  We re-verify the installation schedule and hours, to ensure that the work is completed on time.  Your project is staffed with a project manager, site manager, team leader and 6-12 technicians.  This chain of command ensures that all of the proper procedures are followed, and there is oversight throughout the process.  Our crews follow EPF time tested checklists of proper concrete preparation and installation procedures.  These were developed over the years, and help ensure that your project will be completed with the highest quality standards, and that your flooring will last for years to come.  At the completion of each project, the staff is rated for quality of work, cleanliness, cleanup and more.
Dairy Flooring Projects
PUMA-CRETE® food safe flooring is found throughout cheese and dairy product facilities nationwide. It is typically found in process areas such as milk and milk ingredients, cheese, ice cream, butter, cream, yogurt and all aseptic production areas.  It handles difficult conditions found in processing areas, coolers, tank farms, filling operations, HTST, intake, shipping, warehouse and dock areas, chemical storage rooms and more.
For more information on our Puma-Crete® flooring, please contact a project consultant, for further information at 1-800-808-7773