EPF specializes in seamless epoxy anti static flooring.    We provide a complete turn key package.  This includes materials, installation with our own company crews, and warranty.  After completion, EPF performs electrical testing and certification for compliance ANSI/ESD S20.20-2014, DOD 4145.26, NFPA99  or any other customer required electrical specification. The customer receives a solid, single source, five year warranty.
With a nationwide USA service network, we are able to provide localized service at all facilities throughout the U.S.  Project estimators provide expert consultation on your specific project needs.  This includes determination of removal of existing materials, glue removal, concrete surface prep, repairs, and installation of the new epoxy electrostatic dissipative floor.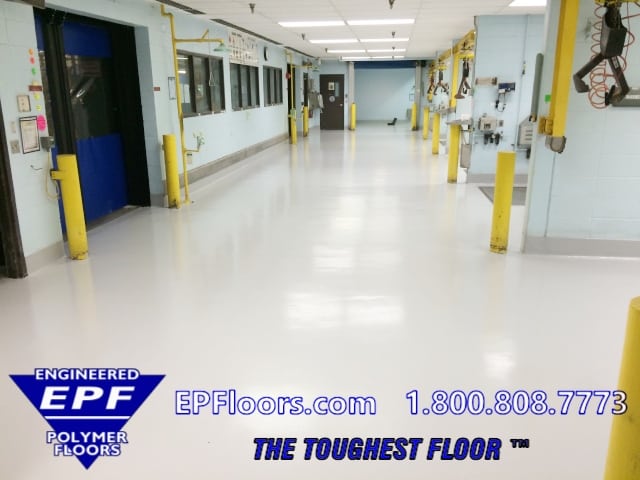 Epoxy Flooring Advantages
EPF's anti static flooring systems include seamless epoxy primer, mid-coat and high performance urethane top coat.  Anti static polymer flooring has numerous advantages over anti static vinyl, ESD carpet, ESD rubber flooring and ESD flooring tiles.  These included easy to maintain…never needs waxing .  Cost effective  (low unit life cycle cost),  abrasion-resistant,  seamless hi tech and easy to clean surface.  Semi-gloss and satin finishes are available.
Since our ESD flooring never needs waxing, this saves at least $1 per year on maintenance costs over alternative seamless floors and tile.  This is a savings of $10 per sq ft over 10 years, for flooring requiring ESD waxing.
"INSTALLED • TESTED • CERTIFIED • WARRANTIED"
Recent Epoxy Anti Static Floor Installations
Epoxy Anti Static Flooring Costs
 EPF's static flooring epoxy and polyurethane systems are the lowest cost anti static floor finishes, over the long term, and provides an excellent return on investment. Typical installed cost is $3-6 per square foot.  Contact us for a customized quotation for your project!
Static Dissipative Floor Electrical Specification
Contract Mfr's & OEM's in hi-tech industries have implemented the ANSI ESD S20.20 industry specifications for an ESD Control Program, used to protect electronic components.  Our epoxy floor finishes are compliant with   ANSI/ESD S20.20-2007  standards for antistatic floor coatings.
Epoxy Static Control Floor Installation
Since EPF is vertically integrated, we furnish the materials, installation with our own company crews, and 5 year warranty.  Often our work requires removal of VCT tiles, rubber flooring, sheet vinyl, epoxy or other flooring materials.  With specialized equipment, our team accomplishes this in no time!  We have invested millions of dollars in specialty equipment for surface prep and application of our flooring.  Concrete is grinded with walk behind diamond grinding machines, and ride on grinders.  Cracks and holes are filled with strong epoxy paste materials.  Concrete joints are cleaned out and repaired, and prepared for the flooring.  Next, epoxy primer coat is applied to seal the substrate.  Second coat of epoxy primer provides build thickness.  Concrete joints are filled with elastomeric two part polyurea.  Finally, a coat of ESD polyurethane provides the electrical pathway.  Next, grounding strips are installed onto the floor, with conductive adhesive, to customers preferred earth ground points, at floor/wall junctions.  Typically steel columns are used for this process.
Chemical Resistant Anti Static Floor Properties
EPF's static control floors provide outstanding overall chemical resistance to acids, alkalis and solvents.  Contact our technical support staff for resistance to specific chemical agents concentrations and temperatures.
Additional vendors of anti static flooring
For more information, including the color availability, technical properties, or anti static flooring specifications, or other properties of our systems, please contact the technical support team at our office, or call 800-808-7773