EPF specializes in Puma-Crete
®
 commercial and industrial
bakery flooring 
throughout the U.S.    Our seamless urethane concrete floor is sanitary and easy to clean.  Longer lasting than epoxy, brick and tiles, there are no joints, and it completely seals all cracks and crevices in the floor.  USDA and SQF approved, this will be the last floor you shall ever need!   Our flooring projects average $8-12 per square foot, installed complete with 5 year warranty.  
Contact us
for a customized quotation.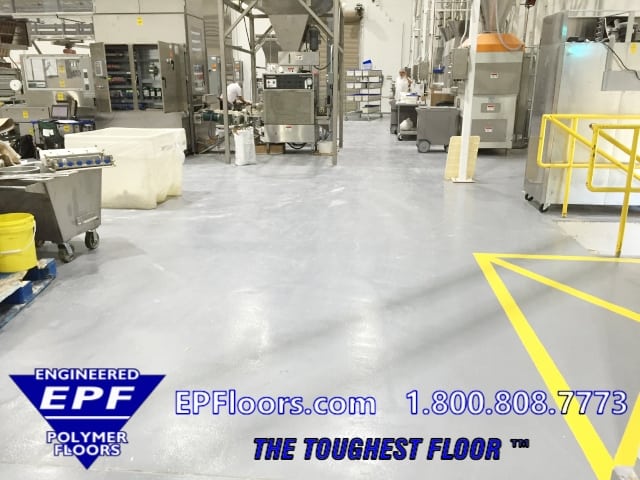 Puma-Crete®  is a urethane floor. It is much more durable than epoxy flooring.  It handles heavy carts, fork trucks and other abusive impact and abrasion.  It can also an hold up to heat, hot oil and thermal cycling from ovens and fryers.
Puma-Crete® will help your plant meet strict quality guidelines, which are mandated by Food Safety Modernization Act (FSMA), customer food safety audits, BRC, SQF and other food safety rules.   It is USDA approved.
This is heavy duty industrial flooring which, and features a hygienic, sanitary surface. It is also  anti microbial which inhibits the growth of bacteria.  This seamless, sanitary, non-porous floor finish is easy-to-clean, and it will ensure that you will pass your food safety audits with flying colors!
Installations may be performed in as little as 24 hour turnaround!
Why Puma-Crete® Bakery Flooring?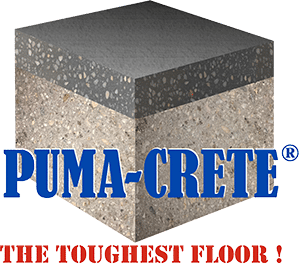 EPF manufactures Puma-Crete® industrial bakery flooring.  Since our firm is vertically integrated, we can provide a single source, turn-key installation. Advantages over conventional flooring such a brick or tile include a seamless finish (no joints to harbor dirt or bacteria),  durable (heavy duty 1/4″ to 3/8″ troweled urethane mortar), slip resistant textures. Finish has a semi-gloss or high gloss appearance, with 12 colors available.
In many instances, we can apply over brick and tile, with limited removal required.  However, once you wait too long for the new flooring, and there are too many loose bricks or tiles, the entire floor will have to be removed. Contact our expert project estimators for more information.
Lasting 5 to 10 times as long as epoxy flooring, our Puma-Crete®  seamless cementitious urethane floor will be the last floor you will ever need !
Installation of Puma-Crete®Bakery Flooring
Puma-Crete® installations are performed with our own professional crews, and include an exclusive 5 year warranty.   Crews are highly trained, experienced, and fully certified to work in food processing environments.  Strict GMP guidelines are followed, and all equipment is designed to minimize dust generation, minimize disruption in sensitive bakery and food processing environments.
Fast turnaround is available, in as little as 24 hours.
Recent EPF Bakery Floor Installations
For more information on Puma-Crete® , check out this brief video:
Check out Puma-Crete® advantages for bakeries, over the competition !
Some of our projects include bakery floor materials by other manufacturers.
For more information on our Puma-Crete® bakery flooring, please contact a project consultant, for further information at 800-808-7773