Commercial Bakery Flooring
Commercial and industrial bakeries require tight controls of their manufacturing areas.  Proper flooring in these areas can increase productivity, and decrease sanitation costs. Furthermore, the Food Safety Modernization Act (FSMA) is driving bakery manufacturers to examine their building envelope, and ensure that their walls, ceilings, and bakery flooring are well maintained and sanitary.  EPF developed PUMA-CRETE® commercial bakery flooring systems, in order to assist customers with maintainable, cleanable and durable bakery floors.  For over 30 years, we have assisted bakeries with customized flooring solutions.  PUMA-CRETE® seamless food grade flooring is specified in new construction and existing bakery floor renovations.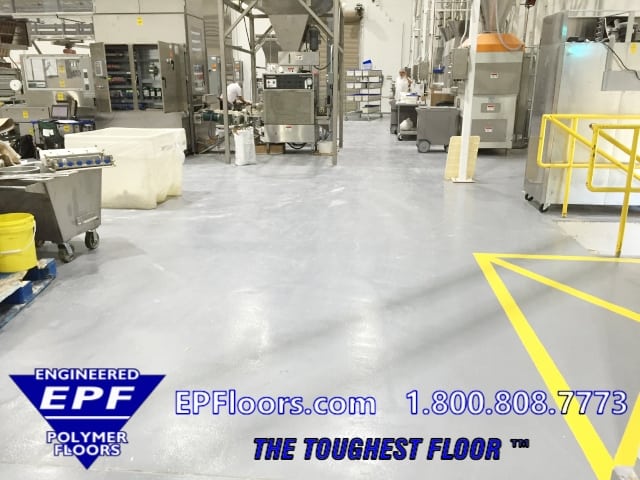 PUMA-CRETE® flooring may be customized for each area within the bakery.   Our seamless floor finish completely seals all cracks and crevices in the floor.  PUMA-CRETE® is longer lasting than epoxy, and tiles, and more cost effective than brick.
Not only do we manufacture the materials, but we also have a nationwide service network. We can provide local service and fast turnaround throughout the U.S.
Since EPF is vertically integrated, we are able to provide all services related to your floor project.  This includes concrete floor consultation, floor specification assistance, manufacturing, installation with our own crews, and exclusive EPF 5 year warranty. We are able to control quality every step of the process.  EPF can also handle concrete slab installation, curbs, slope to drain flooring, and floor drains.
Bakery Floors for Wet and Dry Areas
PUMA-CRETE® flooring is found in both wet and dry areas of bakery facilities.  Wet areas such as dough makeup and pan washing, require grading the floors to drains. Properly graded floors prevent ponding, and allow for fast drying. Better drainage equals saved time on cleaning, and prevention of lost time accidents due to slips and falls. Dry areas require sealed floors, to make it easy to perform dry cleanup.   Oven and fryer areas require resistance to heat and hot oils.  Other typical areas needing floor coatings include ingredient areas, spiral coolers, freezers, proofers, coolers, loading docks, warehouses and maintenance shops.
Bakery Floor Materials
When compared to other food processing floor options, PUMA-CRETE® stands above the rest.  PUMA-CRETE® flooring is available in several versions, all of which are troweled urethane floors.  Thickness varies from 3/16 to 3/8 inch.  Options include 4 hour cure polyaspartic coatings, and integral sanitary cove base.
Don't be confused about the appearance.  Epoxy and urethane flooring appear similar , but that is where the similarities end. PUMA-CRETE® is much more durable than epoxy flooring.  PUMA-CRETE® shall be the last floor you shall ever need!  Not only is PUMA-CRETE® heavy duty, food safe industrial flooring, but it safely handles heavy carts, fork trucks and other abusive impact and abrasion. This urethane concrete flooring holds up to heat, hot oil (thermal shock) and thermal cycling from ovens and fryers.
Bakery Flooring Cost
PUMA-CRETE®  industrial flooring is cost effective.  Typical project costs are $8-12 per square foot installed complete. Over an expected 15-20 year lifespan, this is only approximately $.50 per square foot, per year (No more than the cost of cleaning your floors).
Hygiene, Inspections, Certification for Commercial Bakery Flooring
PUMA-CRETE® food grade flooring assists food manufacturing facilities to meet strict quality guidelines.  These requirements are driven by the Food Safety Modernization Act (FSMA), customer food safety audits, BRC, SQF and other food safety rules.   PUMA-CRETE® is USDA approved.  This seamless, sanitary, non-porous floor finish is easy-to-clean, and it will ensure that you will pass your food safety audits with flying colors!
Allergen and Ready to Eat (RTE) Floors
Just prior to packaging, bakery product rooms require the highest level of cleanliness.  Food safety requirements are highest in these Ready to Eat (RTE) product areas, and allergen rooms.    PUMA-CRETE® floors feature a hygienic, sanitary surface, and serve as effective clean room flooring for rooms with unpackaged food product.  It is utilized as allergen room flooring and RTE flooring for bakeries and many other food processing industries.
For more information on Puma-Crete® , check out this brief video:
Antimicrobial Commercial Bakery Flooring
PUMA-CRETE® flooring does not support the growth of bacteria and microbes, and serves as antimicrobial flooring.  In addition, it contains antimicrobial additives which inhibit the growth of mold, bacteria, and some viruses.
Advantages of Seamless Urethane Over Tile in Bakeries
There are many advantages of PUMA-CRETE® over conventional flooring such a brick or tile.      Theseinclude a seamless finish (no joints to harbor dirt or bacteria),  durable (heavy duty 1/4 to 3/8 inch troweled urethane mortar floor) and slip resistant textures. The finish has a semi-gloss or high gloss appearance, with 12 colors available.  In many instances, we can apply over brick and tile, with limited removal required.  Contact our expert project estimators for more information.
Recent EPF Bakery Floor Installations
Installation of PUMA-CRETE®Bakery Flooring
PUMA-CRETE® flooring installations are performed with our own company crews, and include an exclusive EPF 5 year warranty.  Your project shall have an dedicated team including project manager, site manager, team leader and 6-12 floor technicians.  Crews are highly trained, experienced, and fully certified to work in food processing environments.  Strict GMP guidelines are followed.    EPF has invested over 1 million dollars in specialty surface prep and installation equipment.  Integral dust collection is installed on all of our equipment, to prevent airborne dust.  Everything is geared to minimize disruption in sensitive bakery and food processing environments.  In addition to quality, efficiency and fast turnaround are always maintained.
Many projects have short downtime windows.  EPF specializes in fast turnaround.  Many of our installations must be performed over weekends, holidays or short downtime, in as little as 24 hour turnaround!
Some of our projects include bakery floor materials by other manufacturers.
For more information on our Puma-Crete® bakery flooring, please contact a project consultant, for further information at 800-808-7773