INDUSTRIAL FLOORING INSTALLATION
Knowledge and thoroughness are our trademarks, with every industrial flooring installation that we perform.  EPF is a vertically integrated flooring company.  We control every aspect of your project; from initial consultation and quotation, to application of Puma-Crete materials, along with a solid warranty. Our site managers and flooring technicians have extensive experience and training, which enable projects to be handled safely, accurately, and efficiently.  Awareness of our customer's ongoing operations, plant rules, and shortest turnaround possible, are top priorities!

Overview of the Installation Process
Our project management team carefully controls every aspect of the project. This includes a chain of command which begins with project sales department, and flows down to project managers, site managers, team leaders and flooring technicians.  A customized "job readiness" form provides the precise guidelines for working in each unique facility, and includes items such as plant regulations, work hours, detailed schedule, electrical/lighting/temperature conditions, and much more!
Work may be done over weekends, holidays, or while in production, if needed.
We utilize the latest industry techniques, and customize the surface preparation to the needs of each individual project. "Preparation is the key to success", and we pay extra attention to every detail of the surface preparation process. Whether we are performing a urethane floor or epoxy floor installation, we follow strict quality control guidelines.
Our attention to detail, using well established company installation procedures, ensures success for every project. This  ensures that your floor is installed properly, efficiently and returned to service, with as little disruption as possible.
Highly Mobile and Responsive Installation Teams.
With our 50 state network, we are able to provide localized service for all facilities within the U.S., as well as international projects.  Projects are typically scheduled with 30 days advance, but often we have mobilized with as little as a few days from contract signing, to site arrival.

Project Planning for the Installation
After the customer receives his customized industrial flooring proposal (which includes specifications), and contracting with EPF, the project planning for your floor begins.   Job start date and completion date are scheduled.  This is very important, and EPF considers on time completion an absolute necessity.  Materials are manufactured and shipped.  Our customer fills out a detailed "job readiness" form, which lists site availability of utilities, access to building and work areas, plant rules, special safety or GMP rules, start and finish times required, and much more.
Site Conditions for the Industrial Flooring are Evaluated
Once the job readiness form is received, EPF compares power requirements for equipment needed for the work, to that available at the site.  Appropriate electrical pigtails are sent to the customer, so that they may be wired into their panel(s).    The site readiness list is then compared to our standard checklist of equipment and supplies, to ensure everything necessary, is loaded for the project.  Over $1M of specialty surface prep and installation equipment are ready, to ensure that airborne dust is minimized, and every installation proceeds smoothly and efficiently.
EPF Pre-Project Planning and Installation
Next, our project manager carefully reviews the job specifications and job site conditions with the site manager.  Delivery of materials is confirmed at job site.  When the installation team arrives at the job site, orientation is conducted, to ensure all plant rules, GMP, and safety requirements are met. Next, a detailed checklist is followed by the site manager for each step of the installation process.  A team leader reports to the site manager, and flooring technicians numbering 6-12 men are typical.   Each step of the surface preparation process is carefully followed, to ensure proper quality control.   Once the prep is completed, the materials are applied, typically in one to two layers, following strict company guidelines.  Since time tested checklists are followed throughout the process, tight quality is maintained in the finished product.
Post Project Procedures
The customer is shown the finished product for acceptance,  and provided with new floor cleaning and care instructions.  A feedback rating form is left with the customer, for quality feedback on the installation process.  Leftover materials are skidded and prepared for pickup.  The adjacent areas are cleaned up, and returned to original condition. Next, the team loads 6 tons of specialty equipment onto our trailer.  Sign out of the site is performed, and EPF gains another satisfied customer.
With turn key installation of PUMA-CRETE® by one of our own company crews, this heavy duty urethane floor finish is the last floor you will ever need !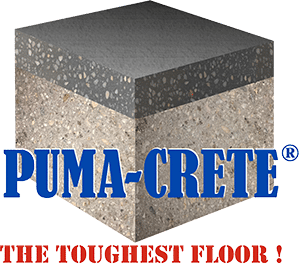 Safety on Industrial Flooring Projects
We are one of the most proactive industrial flooring contractors in the U.S., when it comes to employee training, safety and education.  For safety, our crews follow a rigorous EPF worksafe and HSE program.  This including driving and fork truck operation. Flooring technicians are OSHA certified.
Employee Training for Floor Installation Technicians
Crews regularly receive the latest training, covering surface preparation, application techniques, equipment handling and operation, and environmental controls. Our manufacturing partners, such as Sherwin-Williams and General Polymers regularly conduct training seminars on the latest materials and installation techniques.
For more information our industrial flooring installation capabilities, or a quotation, please contact one of our  project estimators at 1-800-808-7773