EPF specializes in high performance Puma-Crete®   brewery flooring.  For over 30 years, we have been serving major breweries, craft breweries, microbreweries and brew pubs.  Typical areas resurfaced include brewhouse floors, fermentation areas, and taprooms.  Renovation projects are our specialty ! Whether you are converting an existing industrial floor space into brewing operations, EPF provides A-Z expert consultation on your project. We are skilled in slope to drain flooring. This includes turn key installation of sloped polymer modified underlayments, curbing, trench drains, and Puma-Crete finish. If your tap room requires a polished concrete finish, or decorative coatings, we can provide this as well.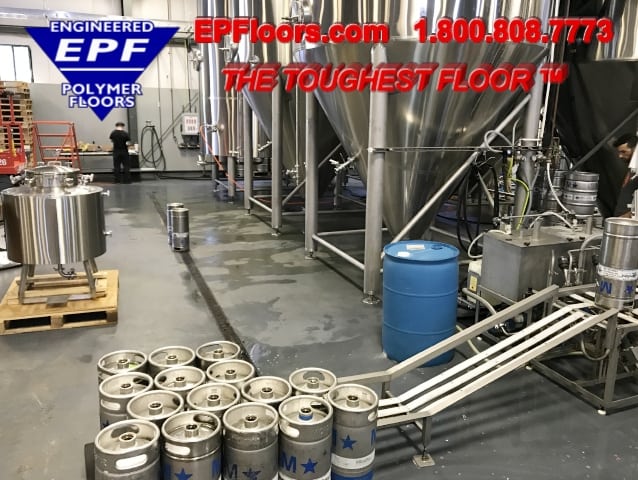 EPF Brewery Floor Overview
Puma-Crete®  flooring is heavy duty troweled urethane flooring that holds up to thermal shock and heavy duty impact and abuse. It features an easy to clean and stain resistant finish, while providing good traction and slip resistance when wet.  Puma-Crete®  is chemical resistant, and may be easily washed and sanitized.
Installations are performed with our own company crews, and include a turn key 5 year warranty.   If you are renovating, we are skilled at sloped to drains underlayments.  If you need drain installation, we can help with this as well.  New curbs, concrete slabs, and other services are part of our turn key package.
Brewery Floor Installation
Many flooring companies are merely manufacturers, who sell their product to third party companies.  EPF controls the entire process from consulting on the project, to manufacturing and application, and warranty.  We control every aspect of your project, from A-Z.  This ensures that quality control is maintained throughout the process, from concept to completion.  We are the only company that can handle drain design and installation, sloped underlayments for renovation, and Puma-Crete finish.
EPF has invested millions of dollars in specialty surface prep equipment, which enables our installation teams to prepare your concrete, brick or tile, for proper adhesion.  All cutting, grinding and blasting equipment has special dust collection  to minimize generation of dust.  This ensures that the installation proceeds quickly, efficiently, and is cost effective.
Our project teams are composed of project estimator, project manager, field manager, team leader and skilled floor technicians.  This chain of command creates a team that has constant interface, ensuring all specifications and quality control are maintained.  Extensive time tested checklists have been developed over the years, which provides exacting standards for quality and efficiency, every step of the installation.
Urethane Brewery Flooring Materials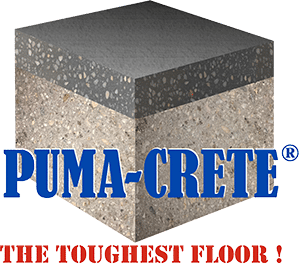 Puma-Crete® brewery flooring is manufactured by EPF.  It is industrial grade flooring, multi component, and a urethane concrete mortar.  Trowel applied at 1/4″ thickness, broadcasted with graded silica.  Next, a polymeric lock coat is applied.  Optional polyaspartic lock coat has cure time of 4 hours, for fork truck traffic and wash down.
Physical properties included a tough impact and abrasion resistant surface.   Surface is antimicrobial, and does not support the growth of bacteria.  Moisture tolerance provides protection against concrete with a high moisture/humidity level.  Other conventional systems, such as epoxy flooring, cannot handle elevated moisture levels without complete failure.
Additional brewery floors
For more information on our  Puma-Crete®  brewery flooring, please contact a project consultant, for further information at 800-808-7773