Industrial Flooring Coatings Massachusetts
INDUSTRIAL Epoxy ESD Flooring Massachusetts MA
E P Floors Corp is a specialist for epoxy ESD flooring Massachusetts region. We offer high performance urethane flooring, epoxy flooring and coatings.  We also have sales offices covering the United States, and are pioneers in customized solutions for concrete toppings and coatings for industrial floors, in manufacturing areas.  With over thirty years of experience under our belts, we are capable of providing complete concrete consulting assistance, which includes testing concrete, concrete contracting and application of new industrial flooring.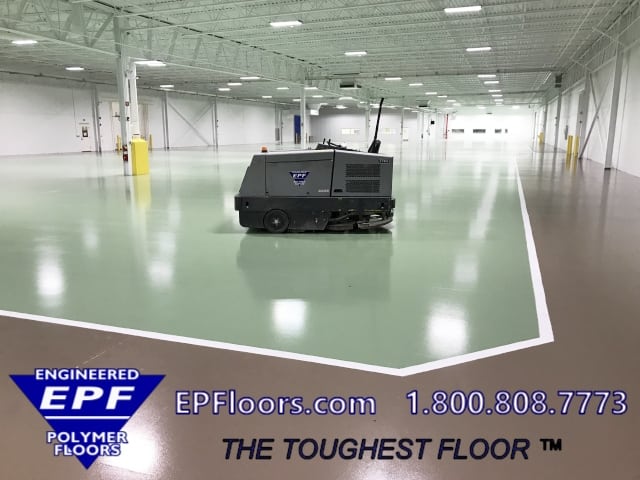 We specialize in projects from 5000 to 1 million sq ft.  We have installed tens of millions of square feet of various industrial flooring types, throughout Massachusetts and the U.S.     We have the extensive track record that you can count on!
Working with environmentally safe materials, we ensure that disruption of any existing operations is minimized.
Installation may also be performed over weekends and holidays, if necessary. Eliminating dust and the lowest disruption for our customers, allows for a stress free experience for our clientele.
EPF customer base ranges from fortune five hundred businesses to small manufacturers, and everything in between. EPF has a diverse base of satisfied industrial flooring MA customers.
Industries served:
General Manufacturing Facilities, Food Processing, Beverage and Brewery, ESD Anti-Static & Conductive, Aerospace, Clean Rooms, and Government/Military.
EPF is highly skilled with new construction or retrofit applications.
Contact us today for a quotation !    Contact Page
[INSTALLATION]    EPF INDUSTRIAL FLOORING COATINGS MA

Our own application teams are trained in the most up to date surface preparation techniques.     Our work may include diamond grinding, shot blasting, scarifying, which are performed in accordance with our engineering and architectural details.   All equipment and personnel are certified to meet OSHA's new respirable crystalline silica standard.
Downtime is minimized for our installations, and fast expert turnaround is guaranteed!
EPF industrial floor coatings MA;    Our teams install troweled mortar Puma-Crete (heavy duty systems).  These systems restore extremely concrete surfaces, and also serve as extra heavy duty finishes for  heavy traffic conditions. In addition to our own products, our manufacturing partners included companies such as Sherwin Williams, General Polymers, and Dur-A-Flex.
Due to our high standards, and quality workmanship by our craftsmen, customers return to us again and again, over the years, as they grow!  This included new areas, expansions/additions, and re-alignment of their facilities, and referrals to their customers !   
Contact us today for a quotation !    Contact Page
[Benefits]  EPF Heavy Duty Coatings and Industrial Flooring Coatings MA 
Very low life cycle cost.
Easy to clean surfaces, with customized textures
Excellent wear resistance, with mortars capable of handling heavy traffic and abuse.
Very low odor during installation (will not disrupt operations)
High gloss and satin attractive finishes available.
Installation with our own company crews.
Read about our recent Massachusetts industrial flooring project at Lord Hobo Brewery !
Read about our recent  Massachusetts ESD flooring project at Neo Tech !
SELECT ONE OF OUR INDUSTRIAL FLOORS DIVISIONS
About EP Floors Corp.
E P Floors Corp is certified by ISN, global leader in contractor and supply management review and verification systems (RAVS).
Boston, Massachusetts
Worcester, Massachusetts
Springfield, Massachusetts
Pittsfield, Massachusetts
Corporate Office:
4 Springfield Street
Three Rivers, MA  01080
For more information about EPF's industrial flooring coatings MA:
Sean Mitchell Phone:  1-800-808-7773 x114        E-mail: smitchell@EPFloors.com         http://www.EPFloors.com           Contact us today for a quotation !    Contact Page