EPOXY FLOORING for Manufacturing
EPF Experience in Epoxy Flooring
EPF has been a leading industrial epoxy flooring and urethane flooring contractor for over 30 years. We have a solid USA installation network that allows us to provide localized service nationwide.  Being a vertically integrated firm, we are able to provide the materials, installation with our own company crews, and a solid warranty.
By tailoring the floor system to meet our customer's  specific needs, we are able to provide customized epoxy floor coating solutions, for all areas within your manufacturing facility. 
Epoxy Floor Services
General categories of our epoxy floor treatments include both
epoxy floor finishes and 
urethane floor finishes. Furthermore, these can be broken down into additional sub-categories of
industrial flooring
including high build
epoxy floor coating  systems
, troweled
epoxy floor systems
, epoxy primer with urethane topcoat, and troweled urethane mortar floors.
Industries Requiring Epoxy Floor Coating Solutions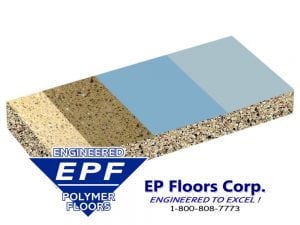 Our flooring solutions extend to a wide range of industrial manufacturing areas including  
Heavy & Light Duty Manufacturing Floors
,
Food & Beverage Floors
,  
ESD Flooring
,
Warehouse and Distribution Flooring
,
Hangar Flooring
,
Chemical Processing Flooring
, &
Pharmaceutical flooring
.   Systems are customized to the specific needs on each project, and range from high performance epoxy and
urethane floors
, to heavy duty
troweled flooring for food processing
,  to high strength polymer slope-to-drain systems, and everything in between!
Recent Epoxy Flooring Installations
EPF Epoxy Floor Installation Company
As an epoxy floor coating contractor, we approach each project as unique.  This requires our project estimator to perform a thorough on-site analysis of your existing concrete and any existing epoxy coatings or toppings.  Once this is completed, we prepare a detailed written proposal, along with a timeline.  Next, a project readiness form is completed, the project is scheduled, and we provide a professional turn-key installation.   We guarantee on time and on budget!
We not only provide a complete turn-key installation with our own company crews, but can also help accommodate your production schedule, to help minimize and/or eliminate downtime; we often schedule over weekends, shutdowns, holidays, or even while in production, if necessary.
Additonal Epoxy Flooring Services
In addition to providing quality installation of epoxy floor coating, sealers, troweled mortars all manufacturing facilities nationwide, we offer additional customized services.  These concrete flooring related services include concrete consulting, concrete installation, slope to drain and trench drain services. EPF can handle your flooring needs A-Z !
Epoxy Flooring Cost
Epoxy flooring cost depends on the many factors, including size of area, type of removal required, number of rooms, and quantity of edges.  We provide a number of industrial epoxy floor coverings for concrete, and industrial poured flooring over cement.  Some of our offering include urethane industrial concrete floor coverings, industrial poured epoxy floors, industrial epoxy floor coating, and a number of commercial flooring options.
EPF is a nationwide concrete floor coating contractor.  For more information, including the color availability, technical properties, or other properties of any of our epoxy floor coating systems, please contact the technical support team at our office.