Industrial Epoxy Flooring Coatings MA,CT,RI (Mfg Plants)
Industrial Epoxy Flooring Contractor MA,CT,RI (Mfg Plants)
Rev. June 1, 2014
EP Floors is a manufacturer and installer of high performance seamless epoxy and urethane flooring throughout New England including Massachusetts, Connecticut and Rhode Island. We are a top rated epoxy flooring contractor in MA and beyond.
For durability, nothing beats epoxy & urethane flooring for light and heavy duty manufacturing facilities.  There are various types of industrial flooring, each having it advantages and disadvantages;  for instance, a medical device manufacturer will require one type of system in their production areas, while an electronics manufacturer or food processing plant shall require substantially different flooring.  Some typical industries utilizing seamless epoxy flooring include:
Light and Heavy Duty Manufacturing
Cleanrooms
Electronics Assembly
Chemical Processing
Food & Beverage Processing (USDA Approved)
Aerospace and Hangars
Pharmaceutical/Biomedical
Power Generation Utilities
Warehouses
Munitions & Hazardous Materials Processing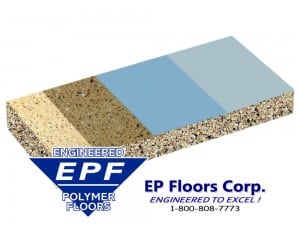 Systems range from thin roll on coatings, to high build coating systems, to trowel on 1/4″ resurfacers including epoxy mortars and urethane cement mortar systems.  For a typical project, costs can range from $1.25 per square foot to as much as $12 per square foot, depending on the type/thickness of materials, size and complexity of the project.
The key to every epoxy flooring project (as with any construction project) is a perfect blend of:
quality materials
skilled applicator and expert surface preparation
expert project management
turn key responsibility/warranty
Benefits of these seamless flooring systems include:  durability, easy to clean surfaces, chemical resistance, abrasion resistance, thermal shock resistance, attractive/decorative finish, and slip resistance.
Further information on specific applications may be found at:
EPOXY FLOORING
About the Author:
Craig O'Shea is a Project Manager with EP Floors Corp. has almost 30 years of experience in the epoxy flooring business. He attends technical training seminars regularly, on the latest industrial flooring innovations, and has managed over a thousand epoxy flooring projects. For more information Craig may be reached at https://epfloors.com/ or by email at craig86575@gmail.com