Industrial Epoxy Flooring Coatings NC, SC, GA, FL (Mfg Plants)
Industrial Flooring Northeast: Epoxy Coatings NC, SC, GA, FL (Mfg Plants)
E P Floors is a manufacturer and applicator providing high performance industrial floors and epoxy coating systems, throughout the northeast and southeast including North Carolina, South Carolina, Georgia, and Florida.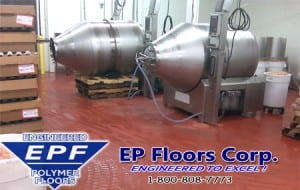 With over 25 years of experience, E P Floor provides consulting service and turn key contracting of epoxy and urethane flooring for light and heavy duty manufacturing facilities in the northeast USA. We also specialize in food & beverage processing, electronics assembly, chemical processing, warehouse & distribution, pharmaceutical, biomedical, biotech, and munitions, hazardous environments.
E P Floors has a complete product line of epoxies and urethanes, and is able to customize every project to the customers needs.  From coating systems to medium duty toppings, and heavy duty resurfacers, E P Floors has a system to meet your needs.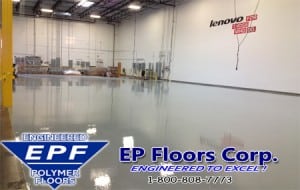 We provide turn key, single source responsibility and warranty for every installation.  We never rely on subcontractors, but perform all work with our own highly trained crews.
Our systems are not only designed for long service life under harsh conditions, but they are cost effective, attractive, and provide years of maintenance free service.
About EP Floors Corp.                
For more information on EP Floors:   http://www.EPFloors.com        
EP Floors provides consulting and full service contracting of floors for all types of light and heavy duty manufacturing and processing facilities.  Specializing in epoxy flooring and urethane mortar flooring,  EP Floors is vertically integrated, providing manufacturing and installation…true single source, turn key responsibility.

For more information contact Craig O'Shea  at 1-800-808-7773, craig86575@gmail.com