Industrial Epoxy Flooring Coatings VT,NH,ME (Mfg Plants)
Industrial Epoxy Floor Coatings VT,NH,ME (Mfg Plants)
E P Floors is a full service, manufacturer & installer of seamless industrial epoxy floor coatings in Vermont, New Hampshire and Maine.  Specializing in light and heavy duty manufacturing facilities, we provide single-source turn key responsibility for every flooring project.
Some of our major specialties:
Food & Beverage Processing
Electronics /ESD Flooring
Aerospace /Aviation
Chemical Processing
Pharmaceutical / Biomedical
Warehouse /Distribution
Cleanrooms
Munitions / Hazardous areas /Conductive Floors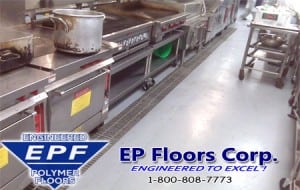 We customize the industrial epoxy floor coating system, to meet the specific needs for your application.  From thin coating systems for light to medium traffic areas, to heavy duty troweled toppings, and everything in between, E P Floors has the right system for your applications.
STEP 1:  Thorough evaluation of needs for your area including:
Type/amount of traffic, impact expected?
Slip resistance?
Integral cove base at wall?
Chemical spillage?
Decorative surface (colors?)
How will the area be cleaned?
Removal of existing flooring (if any)
Pre-filling, crack filling, joint repairs?
Time frame allowed for installation?
Budget and cost analysis.
STEP 2:  Detailed written quotation (turnaround in 2 days)
STEP 3:  Schedule project to accommodate production needs.
STEP 4:   Project readiness form completed, covering all logistics required for smooth project flow.
STEP 5:  Installation managed by project supervisor and project mgr.
STEP 6:  Follow up customer satisfaction survey.
Our company goal is make every customer a reference for our next project, and build on our customer base of repeat customers. By providing quality and cost effective flooring systems, with fast turnaround, we ensure our customers stay on-budget and receive the greatest return on investment!
About EP Floors Corp.                
For more information on EP Floors:   http://www.EPFloors.com        
EP Floors provides consulting and full service contracting of floors for all types of light and heavy duty manufacturing and processing facilities.  Specializing in epoxy flooring and urethane mortar flooring,  EP Floors is vertically integrated, providing manufacturing and installation…true single source, turn key responsibility.

For more information contact Craig O'Shea  at 1-800-808-7773, craig86575@gmail.com