Make your Next Flooring Project a Success with EP Floors Corp. Services
Make your Next Industrial Epoxy Flooring Systems Project a Success with EP Floors Corp. Services
Every industry including manufacturing, industrial or institutional have their own aspects and these are very different regarding their work environment, machinery and flooring it requires. Especially, in terms of flooring like specialty flooring for hospitals, grocery store, food processing plant, aerospace flooring requires professional application and manufacturing expertise. Here, at EP Floors Corp., we have different high impact flooring solutions for different flooring applications for commercial and industrial epoxy flooring systems.
For example, Food and Beverage Processing Flooring, undoubtedly, industrial flooring Maine experience a unique set of challenge when it comes to food and beverage processing plants. Many occasions are there which leads to wet settings, high pressure hosing, sudden high and low temperature, etc. EP Floors Corp., helps your plant meets strict quality guidelines, mandated by the new Food Safety Modernization Act (FSMA), SQF 2000, HACCP, and food safety audits from AIB, BRC, or customer audits.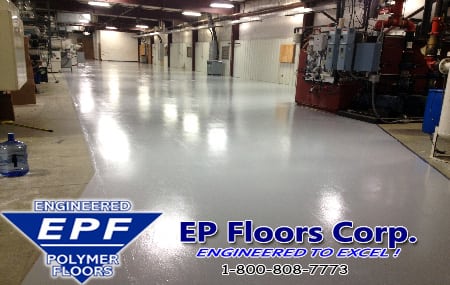 Another example we can take relates to Industrial Floor for Manufacturing. Many manufacturing facilities have to face heavy wear and tear,  heavy loads, oils, chemicals, abrasion and other serious abuse which are mandatory to fix in order to make the whole processing method go easier and smooth. Here, at EP Floors Corp., with our concrete flooring option, are available to make your floor chemical-resistant and easy to clean. We have been providing high performance, slip resistance, industrial epoxy flooring for U.S. manufacturing facilities for over 25 years.
Epoxy floors can last up to 20 years if we maintain it with proper care. When it comes to color options and surface options, we can opt anything from matte to shiny. Moreover, as we apply epoxy, we don't need to grind surface the before applying. This is a major benefit of these types of floors. Let us help you make your next industrial flooring ME project a success with EP Floors Corp. industry flooring solutions. We have the best ideas for your industry's different application areas. Call us at 1-800-808-7773 to book an appointment and let us design a unique concrete flooring system for your premises.
About EP Floors Corp.
For more information on EP Floors: http://www.EPFloors.com
EP Floors provides consulting and full service contracting of floors for all types of light and heavy duty manufacturing and processing facilities. Specializing in epoxy flooring and urethane mortar flooring, EP Floors is vertically integrated, providing manufacturing and installation…true single source, turn key responsibility.