Improve Hygiene and Safety with Food Processing Flooring
Food Processing Floor Coatings That Improve Hygiene and Safety
If you have a new food production company, finding the best epoxy floor coatings is a most necessary thing. Food processing floors are always subjected to extreme conditions such as high temperature water, heavy traffic, corrosive products, spills, thermal shock etc. E.P Floors are experienced consultants in Food Processing Floor New Hampshire and is the leading installer of food and beverage processing floors that are USDA and FDA approved. Food processing areas have some of the difficult application conditions for flooring. Food processing floors additionally experience much physical harassment like heavily loading, steel wheeled carts and more. So the food processing units demand floors that can tolerate all these extreme conditions.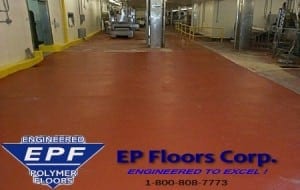 While choosing a flooring material for food processing industries there are numerous things to be remembered including hygienic conditions, durability, chemical resistance, heat resistance, thermal shock resistance and many more conditions. The food processing industry demands the need for protecting the floors from growing microbial bacteria. E.P floors provide expertise in Food processing Floor NH for various flooring design services. Polyurethane flooring systems are used to resist such harsh chemicals in the food processing industries. The polyurethane floors protect against cracks in the floors due to thermal shock prevents slipping etc. Flooring in a food processing plant is designed for the two reasons:
Protect the concrete surface to maintain the floor's structure
Provide a sanitary environment for washrooms to protect the moisture from entering the concrete
E.P Floors Corporation maintains a tradition of quality and provides knowledge and expertise in epoxy flooring, polyurethane flooring and high performance industrial floor coating systems.
About EP Floors Corp.
For more information on EP Floors: https://www.EPFloors.com
EP Floors provides consulting and full service contracting of floors for all types of light and heavy duty manufacturing and food processing floor coatings that are easy to clean and slip resistant. Specializing in epoxy flooring and urethane mortar flooring, EP Floors is vertically integrated, providing manufacturing and installation…true single source, turn key responsibility.