New England Brewery Installs High Performance Slope-to-Drain Flooring
Floor Slope to Drain Project
August 10, 2017  Lord Hobo Brewing (Woburn, MA) has tapped into the growing microbrewery industry, representing "New England beers that highlight paramount traits of quality ingredients".  This style and quality has led to distribution in over 10 states in a short 24 months. The company's commitment to handcrafted quality brewing and high standards of production is just the core of their success.
Lord Hobo welcomes visitors to the facility for tours, samples, growler fills, can and keg purchases of their well renowned selections. They recently have seen tremendous growth in demand, which created  a need for increased production.  The existing brew house needed to be increased by more than 13,000 sq ft.   They needed good drainage (floors that pitch to drains), curbs for containment areas and a tough non-slip surface that can withstand the daily wash-downs, impact, and thermal cycling.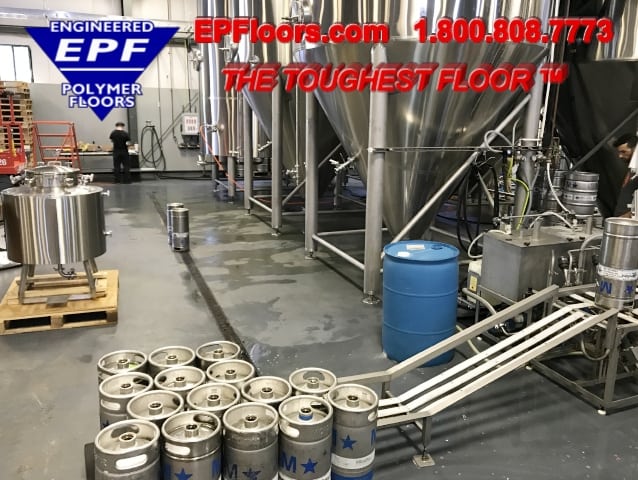 Lord Hobo tried epoxy flooring in some of their brew house. However, it quickly failed. After this experience, Lord Hobo searched for floop slope to drain urethane mortar flooring,  a company with extensive brewery production floor experience.  They contacted several companies, to submit proposals.  One of these was  E P Floors Corp., a company who regularly consults with breweries, to propose a solution to their brew house flooring needs.  With 30 years experience in brewery flooring, slope-to-drain applications, and installation in the food and beverage industry, they felt that E P Floors Corp would have the  experience to provide the right flooring for them.
After thoroughly evaluating all of their proposals, Lord Hobo contracted with E P Floors.  The installation started with a thorough evaluation of the existing slab, including surface elevations, condition of the existing drains, access and staging to ensure smooth work flow for materials and equipment, while allowing for uninterrupted brewery production in nearby areas.
"It wasn't the first time I have seen the issues that Lord Hobo was facing." states Glenn Jobson Project Manager for E P Floors.  Breweries throughout the U.S. experience very similar conditions.  Once they find the perfect industrial space , they need to turn it into a brew house.  Questions arise, such as should the owner remove the entire slab, and re-floor slope to drain, bonded overlayment.  An overlayment can drastically reduce costs and  construction turnaround time.
The following step involved shotblasting the concrete for good adhesion.   The area was sloped to the drains with high strength polymer concrete, at 1-2% grade.  This grade prevents puddles, when the floor is later washed down.
During the completion stage, the  installation team  covered the new surface with an ultra-tough ¼" PUMA-CRETE HFB with PUMA-CRETE topcoat.  This provides the brewery with a long lasting, cleanable, slip resistant, no worry surface.   Mike Labbe, Lord Hobo Director of Operations, gave the flooring and installation "5 stars".
Next time you're in the Boston area check out Lord Hobo brewery and sample for yourself, the reason for their tremendous success.
E P Floors Corp. is a vertically integrated flooring company, providing comprehensive consulting services  for polyurethane cement flooring throughout the United States.  Specializing in food and beverage  processing facilities,  they provides a turn-key solution including materials, installation with their own crews, and a comprehensive five year warranty. 
For more information about Puma-Crete and E P Floors systems, contact:
Sean Mitchell Phone:  1-800-808-7773 x114        E-mail: smitchell@EPFloors.com         https://www.EPFloors.com