USDA Approved Flooring Complies with Sanitary Requirements at Food Plants
USDA Approved Flooring Complies with Sanitary Requirements at Food Plants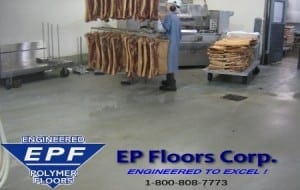 USDA approved flooring, Puma-Crete troweled urethane flooring, provides sanitary, hygienic, anti microbial surface at USDA compliant food and beverage processing plants, throughout the United States.
Easy to clean, yet slip resistant, Puma-Crete is designed for harsh conditions including thermal shock, impact, and heavy traffic conditions.
Puma-Crete is perfectly suited for fast turnaround in damp, wet conditions. Highly tolerant of damp and cool conditions.  Due to excellent thermal shock and thermal cycling properties, it may also be installed in high heat conditions, up to 250 deg F.
Contact EP Floors today for free consultation !