USDA Approved Flooring Complies with Sanitary Requirements at Food Plants
USDA Approved Epoxy Flooring Complies with Sanitary Requirements at Food Plants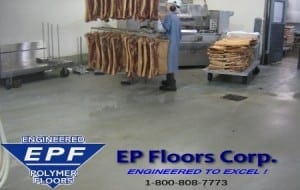 USDA approved epoxy flooring, Puma-Crete troweled urethane flooring, provides sanitary, hygienic, anti microbial surface at USDA compliant food and beverage processing plants, throughout the United States.
Inspected facilities require USDA and FDA approved floor coatings which are sanitary and hygienic.  Over the years, food processors have gradually move to seamless troweled urethane mortar floors.   PUMA-CRETE® flooring is a leading urethane concrete floor, which was developed for the food and beverage industry.  EPF specializes in the turn key installation of PUMA-CRETE®  USDA approved floor coatings.  This food grade, hygienic floor topping is accepted in USDA and FDA inspected facilities.
Easy to clean, yet slip resistant, Puma-Crete is designed for commercial kitchens and  harsh conditions including thermal shock, impact, and heavy traffic conditions.
Puma-Crete is perfectly suited for fast turnaround in damp, wet conditions. Highly tolerant of damp and cool conditions.  Due to excellent thermal shock and thermal cycling properties, it may also be installed in high heat conditions, up to 250 deg F.
Contact EP Floors today for free consultation !
USDA APPROVED EPOXY FLOOR COATINGS
USDA/FDA inspected facilities require flooring with an impervious finish, and hygienic, easy-to-clean surfaces. The floor surface must not be able to harbor dangerous pathogens, in holes, puddles, crevices, and be easy to sanitize properly.  EPF's USDA approved floor topping is the ideal flooring system for food and beverage manufacturing facilities.  PUMA-CRETE® flooring has a seamless, sanitary, non porous finish.   PUMA-CRETE® meets all USDA requirements, inhibits bacterial growth, and serves as an antimicrobial floor.  The surface will not support the growth of bacteria.