Tufco Flooring/ Compare Us !
There are many types of food processing floor options on the market, including brands such as  Tufco , Ucrete Sherwin Williams and many others.
PUMA-CRETE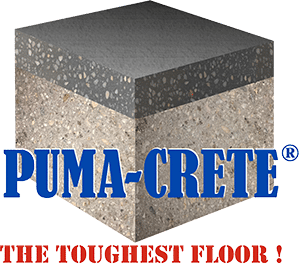 ® is a water and cement based urethane mortar floor.  It is a heavy duty food safe floor, applied up to 3/8 inch thickness. This flooring cures even in damp and cool conditions down to 35 deg F.  It provides a highly durable, waterproof, impervious surface for food & beverage processing areas.
Our PUMA-CRETE® industrial flooring is designed to meet the highest industrial demands and standards. It is maintenance-free flooring, with a high degree of chemical resistance imparted allows this system. This allows it to be cleaned with strong acid or caustic cleaners without damage.  This industrial flooring provides additional benefits including excellent thermal shock resistance (hot spills, washdowns), chemical resistance, permanent slip resistance, and is sanitary.  For audits and inspections, it is USDA approved and SQF approved, for food & beverage processing applications.
EPF specializes in troweled flooring for food processing, for food and beverage processing plants.   We perform a thorough analysis of your site conditions, a detailed quotation, and a turn key installation with our own professional crews (fast turnaround specialist), and an exclusive fi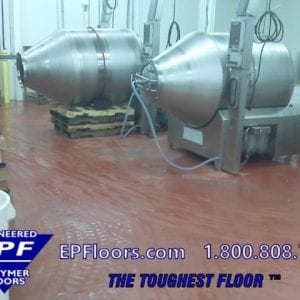 ve year warranty.
We shall accommodate your production schedule, to help minimize or eliminate downtime. We can accommodate scheduling over weekends, shutdown, holidays. We shall do what is necessary to help minimize interruption to your production.
WE GUARANTEE  FAST TURNAROUND !
PUMA-CRETE® Flooring for Food Processing
Contact us today for a detailed analysis and quotation for your area !
Quote turnaround in as little as 48 hours            1-800-808-7773
Check out the advantages we offer, over our competition !
Top 10 PUMA-CRETE® Advantages

Food & Beverage Processing Floors – home
PUMA-CRETE FLOOR OPTIONS
Urethane Concrete Flooring
Sloping to Drains
Drain Installation
Sanitary Cove Base
Installing over brick or tile
Cleaning Puma-Crete®
Food Safety Modernization Act (FSMA)
SQF approved Flooring
USDA approved flooring
AntiMicrobial Flooring
[/vc_column_text]
Disclaimer:  E P Floors Corp. is not affiliated with Tufco Intl., tufco green bay,tufco energy, tufco newton nc, or Tufco flooring.  EPF does not install Tufco floors.
[/vc_column][/mk_page_section]