USDA Standards for Meat & Poultry Processing Floors
USDA Standards for Meat & Poultry Processing Floors
The USDA requires the floor, wall and ceiling surfaces to meet strict standards for hygiene, to minimize the chance of outbreak of food borne illness in the United States.  Food processing floors must meet these standards during regular inspection by the USDA- FSIS division.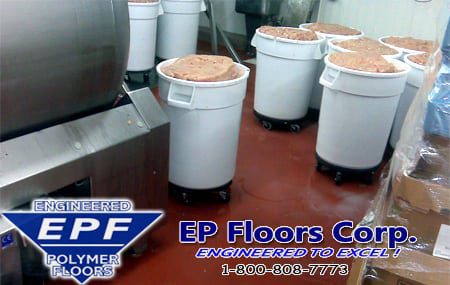 Here are excerpts of the code which applies to meat and poultry processing facilities: 
Meat and Poultry Floor Standards
Sanitation Performance Standards Compliance Guide  FSIS/USDA Code
On October 20, 1999, the Food Safety Inspection Service (FSIS) published a final rule making in the Federal Register that establishes regulatory sanitation performance standards applicable to all official meat and poultry establishments.
Walls, floors, and ceilings within establishments must be built of durable materials impervious to moisture and be cleaned and sanitized as necessary to prevent adulteration of product…
…the floors, floor coverings, walls, wall coverings, and ceilings shall be designed, constructed, and installed so they are smooth and easily cleanable, except that anti slip floor coverings or applications may be used for safety reasons.
(A) In food establishments in which cleaning methods other than water flushing are used for cleaning floors, the floor and wall junctures shall be covered and closed to no larger than 1 mm (one thirty-second inch).
(B) The floors in food establishments in which water flush cleaning methods are used shall be provided with drains and be graded to drain, and the floor and wall junctures shall be covered and sealed.
Provide adequate floor drainage in all areas where floors are subject to flooding-type cleaning or where normal operations release or discharge water or other liquid waste on the floor…
…An ample supply of water at not less than 180 deg Fahrenheit shall be furnished and used for the cleaning of inspection equipment and other equipment, floors, and walls which are subject to contamination by the dressing or handling of diseased carcasses, their viscera, and other parts.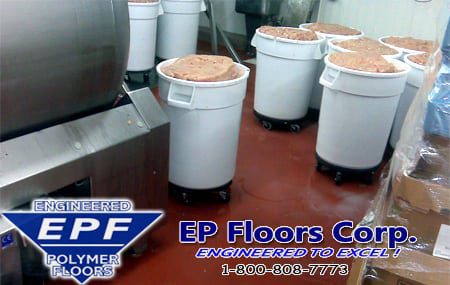 (e) The floors, walls, ceilings, partitions, posts, doors, and other parts of all structures shall be of such materials, construction, and finish as will make them susceptible of being readily and thoroughly cleaned. The floors shall be kept watertight.
(a)     Floors.   All federally inspected floors in rooms where exposed poultry products are processed or handled shall be constructed of, or finished with, materials impervious to moisture, so they can be readily and thoroughly cleaned. The floors in killing, ice cooling, ice packing, eviscerating, cooking, boning, and cannery rooms shall be graded for complete runoff with no standing water.
…floors should not promote microbial growth
___________________________________________________________
For more information about EP Floors' USDA approved meat and poultry flooring systems, visit the website at https://epfloors.com/flooring-types/usda-approved-flooring/
About EP Floors Corp.
EP Floors Corp. is a vertically integrated flooring company, providing polyurethane cement flooring throughout the United States following the USDA standards for meat processing.  Specializing in Food & Beverage Processing Flooring,  EP Floors Corp provides the materials, installation with their own crews, and a solid warranty. 
For more information, contact: Craig O'Shea  Phone: 1-800-808-7773   E-mail: craig86575@gmail.com