Slope to Drain, Pitching, Design & Construction in Food & Beverage Processing Plants
Slope to Drain, Pitching, Design & Construction in Food & Beverage Processing Plants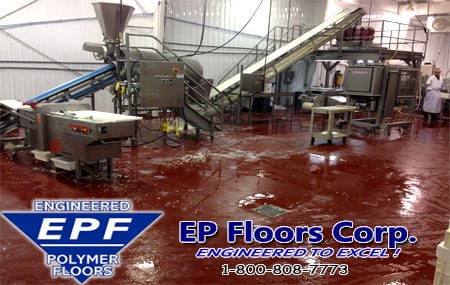 For sanitary environments, such as food and beverage plants, pitching a floor to slope concrete to drain may be necessary, for proper drainage and other  various reasons. These include the following:  
Floor has puddles, low spots or birdbaths.
Replacement of existing drains, and drain layout has changed.
Relocating into an existing building with flat floors.

To provide effective drainage for sanitary needs in a food processing plant, a floor must be sloped or pitched to the drain at 1% to 2% grade.  Firms that specialize in the installation of high strength polymer concrete overlayments, can eliminate the need for demolition and removal of the existing concrete floor.  Often, this can be a cost effective (and time savings alternative) to full removal/replacement.
There are four options for maximizing drainage of water in a food or beverage processing area:
Pre-fill low areas
Install Additional Drains
Slope/Pitch the Entire Room/Area at 1% to 2% grade
Removal of Entire Slab and Re-Pour New Concrete
E P Floors  provides experience and quality to  slope-to-drain projects.  Our consulting services include assistance with floor drain layout and drainage plans, calculation of elevations, thicknesses, and related issues which may affect the finished floors. We also provide turn key materials &  installation high strength (5,000 psi min.) sloped underlayments, and urethane concrete toppings.
Read More on Grading Floors to Drains
EP Floors is vertically integrated, providing a turn key slope concrete to drain installation and single source responsibility. We provide USDA approved food processing consultation and floors for all types of food & beverage processing facilities. For more information contact EP Floors Corp. at 1-800-808-7773, craig86575@gmail.com, or on the web at http://www.EPFloors.com