Advantages of Urethane Concrete Flooring in Food & Beverage Processing Plants
Advantages of Urethane Concrete Flooring in Food & Beverage Processing Plants
Cementitious urethane floor coating floors (a/k/a urethane mortar flooring) has become the "go to" product system for food processing floors, over the last 2 decades.  It has undisputed benefits of rapid one pass turnaround installation, thermal shock resistance, durability in harsh cold/wet conditions, resistance to CIP chemicals and sanitizers, and cost effectiveness.  Along with an experienced contractor/installer in the food & beverage industry, such as expert EP Floors Corp., the turn-key system can't be beat!
Urethane Cement-  Also known as cementitious urethane mortar floors, or urethane slurries, these seamless floor systems provide superior resistance to thermal cycling when compared to epoxy and vinyl ester coatings in addition to providing excellent long-lasting performance. These systems such as Puma-Crete, Ucrete, and others have very low odor during application, along with a seamless, chemical resistant surface, and anti slip texture. Additional advantages are fast drying capabilities.  Plants may be returned to service in as little as 8 hours.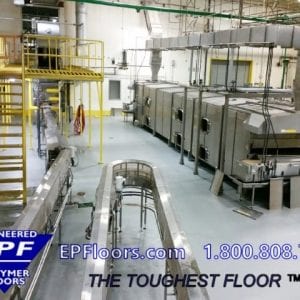 These trowel applied systems handle heavy traffic conditions, impact, moisture vapor, and all around difficult conditions.Food processing facilities are often very damp, sometimes cool or even cold, and sometimes hot, all in a typical day. Modified urethane cementitious flooring systems  perform in steam heat conditions, endure aggressive chemicals, as well as  extreme freezing or below zero temperatures. BASF Ucrete – these products are urethane mortars, urethane cement slurries, and epoxy coatings. Available in decorative versions as well as solid colors, Ucrete is a brand that has been around for decades, and the product line has been bought and sold to many different owners, throughout the years.