Meat & Poultry Processing Floors That Last
Meat Processing Flooring Contractors – Meat & Poultry Processing Floors That Last
Meat and poultry processing floors have extremely severe conditions for flooring. These USDA inspected industrial food processing facilities often have cold/damp conditions, heavy traffic, hot washdowns with chemical sanitizers, thermal shock, and slippery floors. We are world-class meat processing flooring contractors with many decades of experience in processing and industrial flooring solutions.
EP Floors Corp. has the solution for these facilities. PUMA-CRETE HF is a heavy duty, single-pass troweled urethane mortar. It is designed for cleaning and sanitation the harshest conditions in these types of facilities. PUMA-CRETE HF has a permanent thermal cycling and slip resistant texture, handles heavy traffic, is seamless, sanitary and chemical resistant! This system shall help your facility pass USDA/FSIS inspections with flying colors!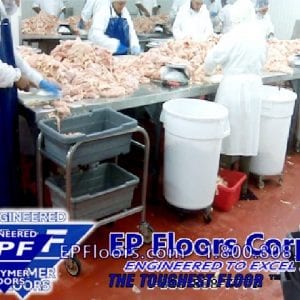 Our firm is vertically integrated, provided a true turn-key installation. We provide the materials, installation with our own crews, and a solid warranty.
PUMA-CRETE shall be the last floor you will ever need! PUMA-CRETE is the TOUGHEST FLOOR !
EP Floors provides USDA approved meat processing floors and poultry processing floors, as well as processing floors for all types of food & beverage processing facilities. For more information contact EP Floors Corp. at 1-800-808-7773, craig86575@gmail.com, or on the web at http://www.EPFloors.com