The Toughest Dairy Processing Floors
We're the TOP Dairy Plant Flooring Contractors
PUMA-CRETE® floors are tough dairy processing floors.  They were developed for USDA inspected food and dairy processing facilities!  Our dairy processing floors have many advantages over epoxy, tile, brick, and other conventional floor toppings. We are some of the highest rated dairy plant flooring contractors in the USA.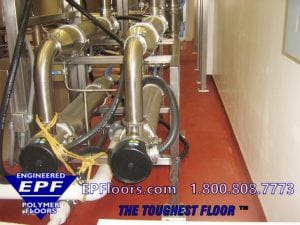 They are Seamless, Chemical Resistant, Thermal Shock Resistant and installed with a Fast Turnaround.
PUMA-CRETE® HF is a 1/4 to 3/8 inch one-pass troweled urethane mortar floor, USDA approved, and designed for the extreme conditions found in dairies. It withstands heavy traffic conditions, there is no odor during installation, it has a permanent non slip texture, and may be installed in damp/cool conditions. PUMA-CRETE HF may even be applied over properly prepared tiles and bricks.  This system has a long track record in fluid milk, cheese, yogurt, butter/cream, and ice cream plants.
EPF is vertically integrated, allowing us to manufacture the materials, install with our crews, and provide an exclusive 5 year warranty. This is a true single source, turn-key installation.
PUMA-CRETE shall be the last floor you will ever need !
DAIRY FLOORING MATERIAL OPTIONS
There are many food safe floor options to choose from, for your dairy flooring.  Here are some dairy flooring options.  Compare us to Ucrete and Tufco.  Also, note that epoxy and urethane floors are not the same.  Epoxy flooring is a type of material. Dont be confused.  It looks the same as urethane flooring, but does not last in wet processing areas. Trust in dairy plant flooring contractors like EP Floors.
E P FLOORS Corp specializes in dairy processing flooring.   For more information contact EP Floors Corp. at 1-800-808-7773,     craig86575@gmail.com, or on the web at