The Toughest Seafood Plant Flooring
The Toughest Seafood Plant Flooring
Seafood plant floors and industrial food processing facility floors must handle some very severe conditions, including cold and damp conditions, heavy traffic, chemical cleaners/sanitizers and potential for slippery floor conditions. EP Floors provides a team of world class seafood plant flooring contractors.
EP Floors Corp. has the solution.  PUMA-CRETE HF  is a heavy duty, single pass troweled urethane mortar. It is designed for the harshest conditions in these facilities. PUMA-CRETE has a permanent non slip texture, chemical resistant, and handles heavy traffic conditions! This system shall help your facility pass USDA/FSIS inspections with flying colors!
Seafood processing floors are exposed to extreme conditions. These fish and shellfish processing areas have mechanical abuse, thermal shock, bacteria and chemical attack, wetness, and sanitizers.  PUMA-CRETE® is a seamless urethane mortar floor.  It was designed for seafood and food processing facilities.  Furthermore, it is durable and tolerant of concrete floor moisture, wash downs, salts, chemical sanitizers and  cool conditions. Our seafood processing plant floors and urethane flooring is a long term solution for your food grade seafoood floor needs.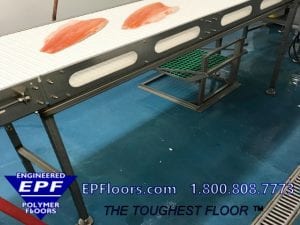 Our firm is vertically integrated, provided a true turn key installation. We provide USDA approved food processing floors for all types of food & beverage  and seafood processing facilities. We are an expert team of seafood plant flooring contractors and professionals in all types of industrial flooring solutions.
PUMA-CRETE shall be the last floor you will ever need!  PUMA-CRETE is the TOUGHEST FLOOR !
For more information contact EP Floors Corp. at 1-800-808-7773,     craig86575@gmail.com, or on the web at http://www.EPFloors.com