NJ Meat Plant Upgrades to Puma-Crete Urethane Flooring
Wonder Meats (Carlstadt, NJ) recently expanded it processing facility. To ensure that the processing floors meet the highest of safety and sanitary standards, it sought out the expert services of specialist E P Floors Corp, for USDA approved NJ urethane flooring for meat processing, and to install a custom flooring system that can withstand the daily demands of meat processing.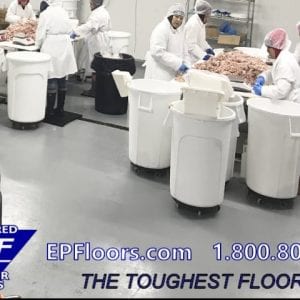 (Carlstadt, NJ.)  When meat processor Wonder Meats recently expanded operations at an existing processing plant, it wanted to ensure that the facility met the highest of safety, sanitary and work efficiency standards. To ensure this, Wonder Meats teamed up with expert installers and service providers for its top-of-the-line showcase facility. They tapped one of the leading nationwide flooring consultants and installers, E P Floors Corp.
E P Floors, a specialist in food and beverage processing flooring, installed PUMA-CRETE ® HFB—a proprietary blend of polyurethane resins and cementitious aggregate blend. It is a trowel-applied mortar, installed in one pass at ¼" thickness. Compared to epoxy flooring materials; PUMA-CRETE ®  withstands thermal constant and cycling, constant wet/damp conditions, and provides for fast turnaround.
PUMA-CRETE ® HFB is designed to withstand harsh conditions in meat, poultry, and other food processing facilities.  Conditions include wash-down, thermal shock during 180 deg. F, steam, chemical sanitizers, and grueling impact and abrasion conditions.
Per USDA requirements, food and beverage processing floors must be impervious to moisture and provide proper grad for runoff and free of standing water.
EP Floors Project Manager Glenn Jobson states, Wonder Meats had previously installed epoxy flooring materials in their facility.  This would require additional thorough preparation, to ensure proper adhesion, and that the new urethane concrete floors met requirements of the meat processor. Because Wonder Meats floors are subjected to heavy forklift traffic; in some cases loads weigh as much as 4,000 pounds, cold and hot temperature fluctuation, continual moisture and a surface that needs to be slip residence.  PUMA-CRETE ® HFB was the ideal solution.
Right Flooring Choices
In selecting the right NJ urethane flooring solution for a food processing plant, Jobson suggests looking at all variables—budget, potential downtime, temperature, traffic loads and degree of slip resistance required—before making a final decision.  For instance, packaging areas with moderate traffic require a thin film coating system with good stain resistance. Regular wash down and process areas, on the other hand, require additional protection including thermal shock resistance, impact resistance, and chemical resistance.
"Of course, there is no substitute for an experienced team of flooring specialists who truly understand the demands of the business," Jobson added.  "In the case of Wonder Meats, they are now experiencing the material gains of investing in quality food processing flooring, well planned architecture and design, and top notch building materials and vendors.  As, Wonder Meats expands and update their production facilities, they are confident that with a dependable partner like E P Floors, they can continue to grow and diversify while adhering to superior quality standards."
In addition to Wonder Meats, EP Floors' roster of satisfied clients include industry leaders like Campbell's Soup, Kroger Foods, Purdue, Cargill, Swift and Company, Hershey's, among other top names in food and beverage manufacturing.
For more information about E P Floors' USDA approved meat and poultry processing floors, visit this page.
About EP Floors Corp.
EP Floors Corp. is a vertically integrated flooring company, providing polyurethane cement flooring throughout the United States.  Specializing in meat processing facilities and food plants,  E P Floors Corp provides the turn-key solution including materials, installation with their own crews, and a comprehensive five year warranty. 
For more information, contact:
Sean Mitchell Phone:  1-800-808-7773 x114        E-mail: smitchell@EPFloors.com