Industrial Flooring Connecticut
INDUSTRIAL FLOORING CONNECTICUT
E P Floors Corp heavy duty industrial flooring in Connecticut. Utilizing epoxy, urethane, and other advanced technologies, EPF provides turn key installation of heavy duty seamless flooring systems and surfaces.  Our expert team of epoxy flooring contracts serve both industrial and residential customers and provide solutions that are high performance, easy to clean, and durable.  Comprehensive services include consulting, design, epoxy floor installation, and turn key installation services.  Our specialty markets include Food and Beverage processing, manufacturing, aerospace, electronics and conductive flooring, and the military/government applications in Connecticut, and throughout the U.S.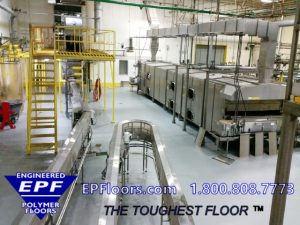 It is our company mission to complete projects with a high quality, long lasting finish that surpasses client expectations.
About E P Floors Corp.
For more information on E P Floors Corp:     https://www.EPFloors.com
Since we control all aspects of your industrial flooring project, we can tightly control every step of the process.  No "finger pointing" that another company or vendor did not perform their work acceptably.
We handle the materials, installation with our own company crews, and a provide a solid warranty—a true turn-key installation.
EPF provides consulting and full service contracting of floors for all types of light and heavy duty manufacturing and processing facilities. Specializing in industrial flooring Connecticut and urethane mortar flooring, E P Floors is vertically integrated, providing manufacturing and installation…true single source, turn key responsibility.
For more information contact a project estimator 1-800-808-7773 or by email at info@EPFloors.com