DIY EPOXY FLOORING or HIRE A CONTRACTOR?
Epoxy and Urethane floors are like any other project.  A little knowledge, the right specialty tools, and many projects can be done on your own. For more complex or larger projects, this may require installation trainers or a turn-key installation by an experienced contractor with expensive specialty equipment.
For smaller projects, repairs, or contractors wanting to install a quality line of products…the following company provides a complete line of materials, as well as installation videos, instructions, specialty tools and on site trainers.  They can discuss your project, and determine if this is a project that you may want to self install.  They also have trained contractors nationwide,  that can help you with your project.
PumaCRETE Flooring
857-226-8247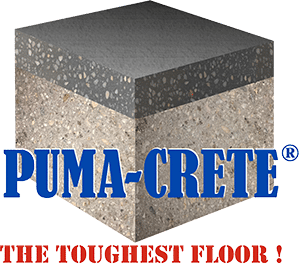 Their line of seamless resin flooring product feature enhanced durability & abrasion resistant, anti slip textures, chemical resistant, non-porous, sanitary, and attractive easy-to-clean finishes.  Other systems include: anti static/conductive, slope-to-drains, moisture mitigation systems for high moisture vapor emission concrete slabs, USDA/FDA approved floor systems, hangar flooring, and USPS flooring.
If turnaround is tight, their installation teams can quickly turnaround an area, to minimize downtime. Fast industrial concrete floor finishes (and short downtime) is GUARANTEED. We have the perfect solution for all areas within your facility!
ABOUT E P FLOORS CORP.
For more information on E P Floors:   https://www.EPFloors.com
E P Floors provides consulting and full service contracting of floors for all types of light and heavy duty manufacturing and processing facilities.  Services includes slot drain installation, slope to drain flooring and much more.   Specializing in PumaCRETE flooring  for over 30 years, EPF has provided a tradition of quality.  We provide a turn-key installation and localized service throughout the U.S., with our fleet of company crews.  EPF has invested in over $1M of surface preparation equipment, utilizing the latest dust-minimization technologies, and ensuring fast and efficient turnaround time.  You can rest assure that the system we recommend shall be the most reliable and cost-effective for your facility.
For more information contact an EPF project estimator at  1-800-808-7773    or by email at      info@EPFloors.com