ESD FLOORING RHODE ISLAND, RI
ESD FLOORING – RHODE ISLAND, RI
Specializing in epoxy and urethane ESD Flooring  offers services in Rhode Island, as well as nationwide, E P Floors Corp provide customized anti static flooring solutions for electronics areas, flammable storage, and explosives areas.  With over 30 years of experience, EPF offer's full service consulting services, testing, manufacturing and contracting/installation.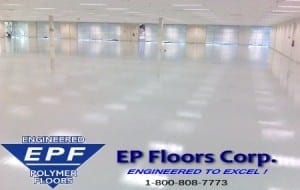 Cost effective, and durable alternative to tiles and rubber flooring, our epoxy and urethane systems never need waxing!   We can handle all types of renovation or new construction challenges… READ MORE
EPF provides both ESD flooring (1-35M ohm resistance),  and conductive flooring (25,000 to 1M ohms resistance) surfaces. We are also able to customize the electrical range, for specialty applications.
Our ESD Flooring flooring comes with a standard 5 year guarantee, labor and materials.  Flooring is grounded every 1000 sf,  to customer's metal columns, ground rods, or bus bars.
 Contact us today for a quotation !    Contact Page
THE COMPETITION
Many of our competitors sell epoxy paint, and other coatings which are nothing more than hi quality waxes.  These materials quickly break down, lose their gloss, and start chipping and peeling. They seem cost effective at first, but after installation, these systems must be re-applied regularly, greatly increasing their life cycle cost.  Many of these systems have poor warranties, and many fine print disclaimers.  The added burden of re application of the materials, including:   emptying out the areas, coating, dry time, moving equipment back into area, all greatly add to the life cycle costs, and reduce your return on investment.  E P Floors Corp. installs long term anti static floor systems, which are designed to minimize maintenance, eliminate waxing, and provide the highest ROI.
INSTALLATION OF ESD FLOORING
ESD floor systems are applied by our professional installation crews.  EPF's  installation teams perform extensive surface preparation, including tile removal, glue/adhesive removal, concrete grinding (with 99.9% dust extraction).  Next, as needed, our team fills cracks, restore damaged joints, and repairing damaged concrete surfaces. All concrete surface prep equipment has 99.9% dust extraction, to control dust.
Our flooring systems include thin mil coatings, or troweled Puma-Crete heavy duty mortar systems (for extremely worn surfaces, or heavy traffic conditions).  We also partner with leading manufacturers of ESD coatings such as Protective Industrial Polymers.
The quality of our work has customers returning to us for repeat business, and new areas, as their facilities grow.    Downtime is minimized for our installations, and fast expert turnaround is guaranteed!
Benefits of our ESD Flooring include:
Reliable dissipating finish
Meets ANSI S20.20-2014 standards
Excellent wear resistance, handles traffic and abuse.
Easy to clean, never requires wax.
Light slip resistant texture
Very low odor during installation (will not disrupt operations)
Bright with high light reflectivity.
Read about our recent ESD flooring project at Neo Tech
About EP Floors Corp.
For more information about E P Floors' ESD flooring systems, contact:
Sean Mitchell Phone:  1-800-808-7773 x114        E-mail: smitchell@EPFloors.com