ESD Flooring Massachusetts MA
ESD Flooring Massachusetts, MA Solutions
E P Floors Corp is a leading industrial and ESD Flooring contractor serving Boston and all of Massachusetts MA.    Providing consulting services, manufacturing, and installation of anti static flooring systems, we are able to offer turn key solutions for all of your ESD flooring needs.  Whether your project size is 10,000 50,000 500,000 or 1,000,000+ square feet, EPF has the capability to successfully complete your project in a timely manner.
Renovation or new construction, or combination of the two,  projects may be completed in Massachusetts or anywhere nationwide. EPF works with owners, specifiers and contractors, to make the process go smoothly.  Our services include tile and vinyl removal, moisture mitigation analysis and ESD coating system solutions.
Advantages of Epoxy ESD Flooring Versus Vinyl Tile
Our epoxy ESD Flooring or electrostatic dissipative flooring, has unmatched reliability.  Installed dissipative systems provide 1-35M ohms resistance, meeting ANSI ESD S20.20-2014 standards.  Other electrical ranges may be customized as needed, including 1-10M ohms, 25000-1M ohms, and more.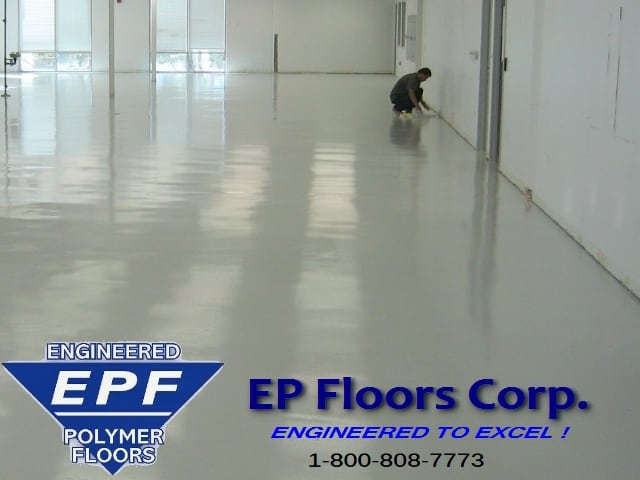 Why ESD Flooring?
In the event that your looking to make an EPA or Electrostatic Protective Area, ESD epoxy ground surface may be one of your best alternatives. Our ESD coatings are a standout amongst the most financially savvy ESD flooring choices accessible today. Notwithstanding keeping a static release, you additionally get the profits of simple upkeep and the toughness for the most part connected with our modern floor coatings.
We will work with your designer, planner or foreman to plan a basic, tried and true framework to viably channel friction based electricity to ground to provide the best epoxy ESD flooring Massachusetts has to offer.
From little gadgets clean rooms, to vast assembling or distribution center offices, we can give an ESD floor that is utilitarian, strong, simple to clean and keep up – and looks awesome!
About EP Floors Corp.
E P Floors Corp. is a vertically integrated flooring company, providing comprehensive consulting services and ESD & Conductive flooring solutions for electronics manufacturing facilities throughout the United States.   EPF provides a turn-key solution including materials, installation with their own crews, and a comprehensive five year warranty.  E P Floors is certified by ISN, global leader in contractor and supply management review and verification systems (RAVS).
Greater Boston, MA
Framingham, MA
Springfield, MA
Worcester, MA
For more information about E P Floors' ESD flooring systems, contact:
Sean Mitchell Phone:  1-800-808-7773 x114        E-mail: smitchell@EPFloors.com         http://www.EPFloors.com      Contact Page