EPOXY FLOORING OR URETHANE CONCRETE FLOORING for MANUFACTURERS
Where do you use epoxy vs urethane floor coating solutions?   Industrial facility professionals are confronted with many daily challenges, involving the operations of their buildings, whether it's a food processing facility, chemical plant, aircraft hangar, electronics facility, or warehouse. They have to maintain and service the entire building(s), from top to bottom. This includes the floors, walls, ceilings, and everything in between. The floors within the building(s) may seem insignificant; however they tie everything together, for a smooth uninterrupted flow of parts, finished goods, and personnel. Important needs may include needing super cleanable surfaces in clean room environments, to non-slip surfaces in damp/wet areas, anti-slip surfaces to prevent slip/fall accidents, dust proofing of the concrete, USDA/FDA acceptance, or anti static floor surfaces. A variety of epoxy flooring systems are available, that can provide outstanding solutions for your concrete floors.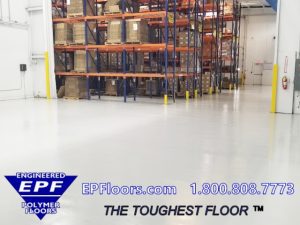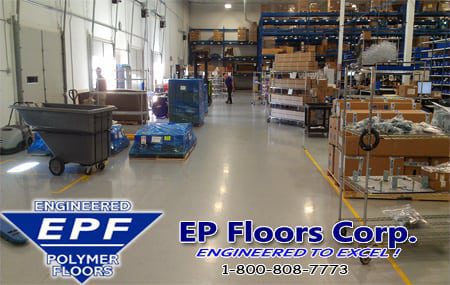 Troweled Epoxy concrete floor resurfacers have been used to restore damaged concrete factory floors for decades. Do an internet search on epoxy flooring reviews, and you will get over 100,000 results. Industrial flooring has been routinely specified for new construction projects, in order to protect the new concrete, and provide a safe, durable, highly aesthetic surface for facilities.
Epoxy has shown its cost effectiveness for protection of new concrete, so most types of areas within the plant. Other flooring types, such as carpet, ceramic and vinyl tile, and resilient flooring are best suited for the office areas of the facility. The alternative to epoxy resin flooring, would be painting the floor. If you want a Home Depot floor or Lowes floor, the initial cost will be low. Many companies have gone this route initially, only to find out the cost and downtime of regular re-painting turns into a major outlay within a few short years.
The annual maintenance costs and downtime of floor painting, far exceed the annual cost of ownership, for an epoxy resin floor system. An average epoxy refinished concrete floor cost, of $5 to $10 per sq ft should provide at least 10 good years of service. At $.50 to $1.00 per square foot annual cost, this provides an excellent return on investment. The flooring is installed once, and minor upkeep shall keep it looking new for many years.
The main drawback of using epoxy vs urethane floor coating materials, would be for USDA approved food and beverage flooring, which experience extreme thermal shock and thermal cycling. The newest technology for these areas, is urethane mortar flooring. This product has gradually replaced the old standard in food plants, which was brick and tile floors. The mortar joints and underlying grout bed were a big drawback to these systems. Not only did the grout deteriorate and require extensive maintenance, but the initial cost was high, and turnaround time was weeks (as opposed to days), with urethane resurfacers. Urethane mortar flooring appears similar to epoxy flooring, but contains cement, urethane binder, and other chemical differences. It excels in wet areas, heavy traffic, chemical attack and other harsh & abusive conditions. It can be used as waterproof flooring with integral cove base. In the 1980's to 90's, epoxy materials were tested in these environments, due to the lower cost, and availability. Building specifiers soon realized that the initial cost savings was irrelevant, because the epoxy based floors often only lasted a few months to a year, until they had to be replaced.
Cementitious urethane mortar flooring started becoming more popular in the 1990's, as the epoxy failures mounted, products such as UCrete were aggressively marketed in the U.S. Building specifiers searched for lower cost alternatives to dairy brick flooring (Urethane cement flooring can be less than half the cost of brick flooring, and often less than tile). Today, urethane mortar floors are the "gold standard" for food & beverage plants. They are routinely specified for new construction as well as renovation. Epoxy resurfacers and epoxy coatings are still effective in certain dry areas of these types of facilities, such as some packaging areas, storage areas, dry storage warehouses, etc.
Except for food & beverage facilities, epoxy coating systems are still the industry wide standard for factory flooring. The epoxy flooring is available in anti static form for electronics facilities, or a high gloss epoxy or urethane aerospace and aircraft hangar flooring.  Other applications include chemical processing plants, clean rooms, warehouses and conductive flooring in munitions plants. Almost every world class manufacturing facility has industrial epoxy or urethane mortar flooring now!
For more information contact EP Floors Corp. at 1-800-808-7773 or  info@epfloors.com