Why Does Urethane Mortar Last, for USDA Approved Food Flooring?
Why Does Urethane Mortar Last, for USDA Approved Food Flooring?
Over the last decade, urethane mortar floors, which are one pass troweled systems, have become the product of choice for USDA Approved food processing flooring.  EP Floors Corp. is a manufacturer of high quality cementitious urethane floor, PUMA-CRETE.   Along with  a turn-key installation, we provide a single source flooring solution, and exclusive 5 year warranty!  From coolers to loading docks, to process areas, PUMA-CRETE HF holds up to heavy traffic, cold damp conditions, thermal shock including live steam, and harsh sanitizer/  CIP chemicals.
Cementitious urethane mortar flooring, also know as urethane mortar flooring, has now surpassed epoxy flooring, as the "go to" product for food and beverage processing facilities. This is due to the lowest long term urethane flooring cost, and optimum all around performance of these systems.
Epoxy floor resurfacers and epoxy coatings, which were the historically used in processing facilities, have numerous drawbacks in food & beverage and certain chemical processing areas, where thermal shock, wet conditions, and chemical spillage is common.  Urethane slurry flooring systems have now "taken up the slack", in areas and industries where epoxy typically fails.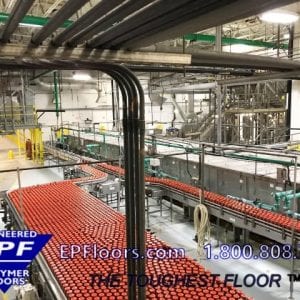 All cementitious urethane mortar flooring is not created equal.  Just as with any other product, there are variations in performance, cost, and warranty.  Equally important, the applicator must have years of experience with the product, in all types of conditions, in order to guarantee a successful installation.