Produce Flooring
Fruit, Vegetable, Juice Processing
Produce flooring, or fruit, vegetable and juice processing floors, are exposed to extreme conditions; mechanical abuse, thermal cycling, chemical/bacteria attack, wetness, sanitizers, etc.    The solution to these conditions, is EPF's Puma-Crete industrial flooring.  They are heavy duty urethane cement mortars, which provide outstanding durability to heavy traffic and impact.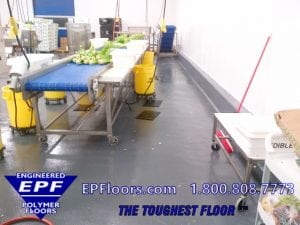 EPF is a vertically integrated, which provides consulting services, manufacturing, installation, and solid 5 year warranty.   Our expert project estimators provide solutions to concrete floor issues including concrete moisture issues, chemical resistance, slope to drains, and trench drains.
Installations are performed by our own professional company crews, following rigid installation checklists and quality control procedures. Over $1M has been invested in surface prep and installation equipment, which minimizes dust generation, and enables installations to be performed with fast turnaround, and little effect for ongoing operations.
Puma-Crete helps your plant meet strict quality guidelines, which are mandated by the new Food Safety Modernization Act (FSMA), customer food safety audits, SQF approved  and USDA approved .    Puma-Crete is chemical resistant  (resistant to sanitizers/cleaners), and is anti microbial… it inhibits the growth of bacteria, and features a hygienic, sanitary surface.  This seamless, non porous floor finish is easy-to-clean, and you will pass your inspections with flying colors!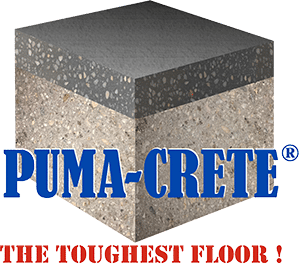 Puma-Crete floors were developed for the food and beverage processing industries.  In addition to moisture tolerance, its seamless surface is anti microbial, and easy to washdown and sanitize.  With optional integral cove base to seal the floor/wall junction, it provides a "bathtub" effect for washdowns and drainage.
Typically applied at 1/4 inch thickness, this urethane concrete flooring provides outstanding longevity and cost effectiveness.  At an installed cost of $8-12/ sq foot, this system will often provide 15-20 years of good service.  It will be the last floor that you will ever need !
Check out the advantages we offer, over our competition !