Not only does our anti microbial industrial flooring protect your areas from damage due to traffic, impact, chemicals, cleaning, and temperature changes…these surfaces also feature an added level of protection from bacteria and mold!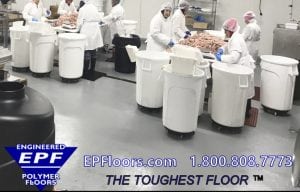 E P Floors Corp is a manufacturer and installer of PUMA-CRETE, a three-component, screeded and trowelled, polyurethane-modified cement.  It is also a chemical resistant flooring, and handles thermal shock from hot/cold conditions. A non-sacrificial antimicrobial flooring additive is integrated throughout the system, to inhibit the growth of microorganisms such as bacteria and its odors.
Anti microbial flooring systems from E P Floors are available in a variety of surface options. In addition to the standard one pass anti microbial floor system, PUMA-CRETE , we also offer a two pass system with an optional topcoat, for additional cleanability.
We offer anti microbial epoxy flooring, as well as urethane concrete systems.
Our anti-microbial epoxy and urethane floor systems are seamless, non-porous, easily cleaned and minimize areas where mold, bacteria, and other infectious agents grow, especially in wet environments.  These systems can also improve the overall indoor air quality in dry conditions, with a proper cleaning program.
For more information on our Puma-Crete antimicrobial flooring, please contact a project consultant, for further information at 800-808-7773