Waterproofing Brick & Tile Floor
Do you have existing brick floor, or tile floor in your production areas, which is failing?
Grout joints deteriorating?
Brick or tile worn out?
Water leaking through to the floor below?
SOLUTION……We have a unique 3/8″  urethane resurfacing system, which may be bonded to a brick floor or tile floor, providing a waterproof, smooth, durable and seamless finish.
We also offer an integral cove base at the floor/wall junction, to provide a watertight "bathtub effect" for the entire area.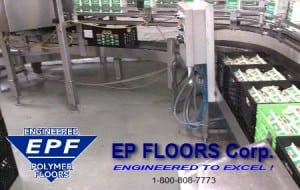 The only requirement is that the majority of the mortar bed, under the brick or tile must be structurally sound.  The joints and grout between the bricks or tile can be completely deteriorated.  The majority of the bricks or tiles must still be "set" into the base,with no movement.
We remove any loose, unsound bricks or tiles, refill these areas with fast setting high strength polymer grout;  next, we prep and adhere to the surface of the brick or tile.
Our system provides a long lasting, sealed & warranteed waterproof finish! 
Fast turnaround installation is guaranteed.
For a quotation, or more information, including the color availability, technical properties, or other properties of any of our systems, please contact the technical support team at our office.