Urethane & Polyurethane Floors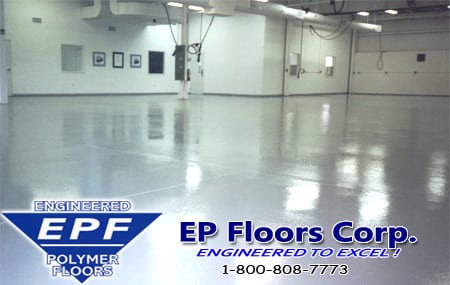 There are four main categories of industrial urethane floors. Please select the one you are interested in:
Polyaspartic (fast curing, low odor) coatings.
There are many, many types of polyurethane (also known as urethane) resin flooring systems.  For industrial and manufacturing operations, you may need two (or even three) different urethane floors, depending on operations in different areas of the plant.
Note:  All of our urethanes are very low odor, or completely odor free.
In a dry (or mostly dry) production area, with existing concrete in decent condition, a liquid applied roll on system (thin mil system) would seal the concrete, provide an enhanced, highly aesthetic, cleanable surface, and moderate chemical protection.  For example;  in a wet food or beverage processing environment, a troweled urethane mortar shall provide all the protection needed in this type of area, including maximum toughness, chemical resistance, moisture tolerance, and resistance to cool (or hot) conditions.  Thermal shock and thermal cycling protection are "built" in to this system.
A third type of urethane, is a polyaspartic resin.  This type of coating is fast curing ( 1hour cure), chemical resistant and highly durable.  There is no odor associated with this fast curing urethane.
For floors with concrete moisture issues, a fourth option is a moisture mitigation flooring underlayment.   This flooring shall prevent concrete moisture from damaging floor coatings and toppings that are applied to the floor.  It provides an intermediate barrier to prevent floor coatings and topping failures, including peeling/delamination, bubbling, and breakage.
urethane floor system     urethane floor coating      urethane flooring vs epoxy flooring
cement urethane flooring
urethane mortar flooring     cementitious urethane flooring cementitious urethane flooring
industrial urethane floor coatings   urethane flooring   epoxy urethane floor coatings
urethane slurry flooring system    polyurethane flooring system     epoxy floor coating systems industrial
urethane concrete      urethane concrete floor coatings
polyurethane floor coating
epoxy vs urethane floor coating   epoxy vs urethane paint     epoxy floor coating vs polyurethane
concrete paint vs epoxy
polyurethane over epoxy floor
urethane flooring systems
urethane concrete coating
urethane cement floor coating
polyurethane cement floor coating
For a quotation, or more information, including the color availability, technical properties, or other properties of our urethane floors or any of our systems, please contact the technical support team at our office.