Industrial Kitchen Flooring
EP Floors Corp. is provides nationwide turn-key installation of industrial kitchen flooring, and USDA approved food & beverage plant flooring. We are a vertically integrated firm, providing manufacturing, installation with our own crews, and solid single source warranty.
Our industrial kitchen floors withstand SEVERE ABUSE in the same environments where conventional flooring and epoxy flooring routinely fails.  Our system offers distinct advantages over our competitors such as epoxy, mma, brick, tile, ucrete, tufco, stonhard and many others…
One call, and we handle everything…
Fast turnaround installation is guaranteed!
Floors in industrial kitchens have very difficult conditions for flooring. The floors are constantly suffering intense mechanical abuse from forklifts, totes, tanks, hoppers, tables, pallets (dropped, dragged, dumped, pushed,pulled).
In addition to mechanical abuse, chemical attack from ingredients including sugars, acids, oils. Cleaners/sanitizers are used regularly, along with scalding hot water. There is extreme thermal shock & thermal cycling from steam cleaning and 160-180 degree F. hot wash downs.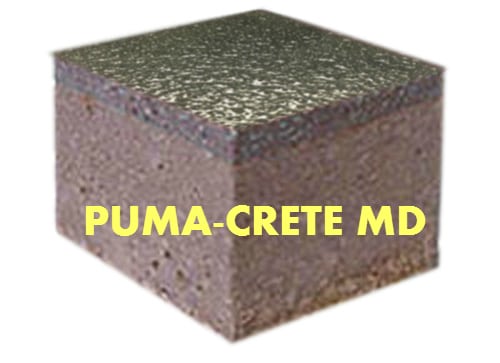 Our seamless cementitious urethane mortar, PUMA-CRETE HF, excels in food processing facilities.  With turn key installation by our professional crews,  our high performance urethane concrete floor finish is the last floor you will ever need !
Our flooring helps your plant meet strict quality guidelines, which are mandated by the FSMA, SQF 2000, HACCP and  other Food Safety Audits.  Our seamless sanitary flooring is hygienic, inhibits the growth of bacteria, is non-porous and easy-to-clean….you will pass your inspections with flying colors!
For more information, including the color availability, technical properties, or other properties of our food processing flooring or any of our systems, please contact the technical support team at our office.