EP Floors Corp. specializes in epoxy & polyurethanes conductive flooring. We serve the electronics industry as well as munitions, explosives areas, hazardous storage areas, and also provide AGV flooring  (automatic guided vehicle). We are a vertically integrated firm, providing materials, installation with our own company crews, and a solid warranty. No distributors; we provide the single-source Turn-Key installation; one call does it all.
We have installed millions of square feet of epoxy & urethane flooring systems, throughout the United States. We have a diverse customer base; from Fortune 500 companies to Department of Defense, and high tech manufacturing firms.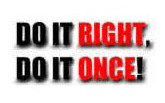 Select your industry:
Conductive Flooring (background)
The term conductive flooring, also known as static conductive flooring, is often confused with static dissipative. It's primary industrial application, includes flammable storage areas, explosives storage, munitions, propellants, etc. In general, conductive flooring should not be considered as a superior resistance range versus static dissipative range, unless you are using it for these specific applications, or you need to meet one of the following specifications; NFPA-99     DOD 4145.26-M
Electrical resistance range
Resistance to ground of a conductive floor is defined as < 1.0 x 106 (1 million) ohms measured per ANSI/ESD 7.1   Conductive flooring must also meet all three recommended electrical parameters of ANSI/ESD S20.20-2007.    note:  Static conductive flooring is highly conductive, therefore, for safety concerns, should never be used near /under high voltage, energized equipment. Always consult industry standards as well as local building and safety codes before installing conductive flooring. Depending on the application, ground fault interuptors may be required, in areas with conductive flooring.
EPF's conductive flooring is in thicknesses ranging from 30 mils, up to 1/4 inch, depending on the application. Substrate condition, traffic conditions and other considerations shall affect the required thickness necessary.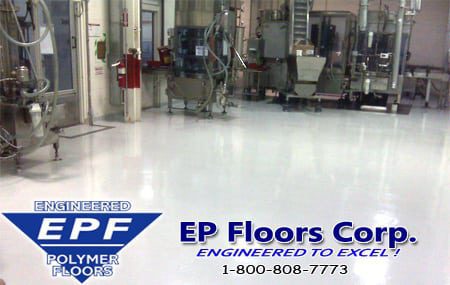 Systems are available in a range of attractive colors.
Our professional services include an established process of:
On-site analysis of your existing floor area
Selection of appropriate conductive floors system
Skill of application
Testing & Certification
INSTALLATION
EP Floors Corp. provides a turnkey installation with our own crews, along with a solid, single-source 5 year guarantee. Installation may be done over weekends, holidays or while in production, if necessary.
FAST TURNAROUND IS GUARANTEED !
EP Floors Corp provides all of the above, service before and after the sale, performs the ESD flooring audit, and certifies that your conductive flooring is safe and meets specifications.
For more information, including the color availability, technical properties, or other properties of our static dissipative flooring or any of our systems, please contact the technical support team at our office.