Commercial and Industrial Bakery Flooring
E P Floors specializes in Commercial and Industrial Bakery floors throughout the U.S. Our seamless, sanitary troweled urethane flooring, Puma-CreteTM,  is easy to clean, durable, and completely seals all cracks and crevices in the floor. Bakery flooring is exposed to extreme conditions including heavy wheeled abuse from carts and tow motors, heat and thermal cycling from ovens, fryers, washdowns, and chemical attack. Puma-CreteTM handles all of these tough conditions, for decades!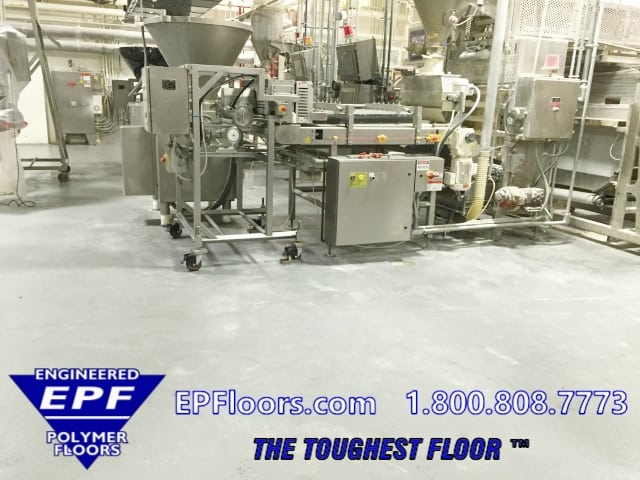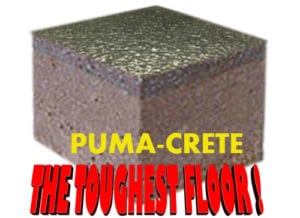 Puma-CreteTM bakery flooring system includes a turn-key installation, and exclusive five year warranty.  Advantages over other conventional flooring include:
Seamless (no joints to harbor dirt or bacteria)
Durable (heavy duty 1/4″ to 3/8″ urethane mortar)
Easy to Clean and sanitize
Slip resistance
Fast turnaround installation available.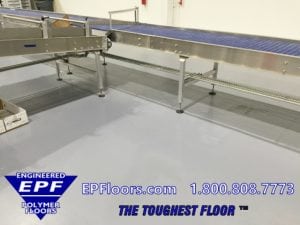 Bakery Flooring Installations
Puma-CreteTM  installation is included by our professional crews, and includes an exclusive 5 year warranty. Crews are highly experienced, trained and fully certified to work in food processing environments.  Strict GMP guidelines are followed, and all equipment is designed to minimize dust generation, and minimize any disruption in sensitive bakery and food processing environments.
Lasting 5 to 10x as long as epoxy flooring, Puma-CreteTM seamless cementitious urethane floor will be the last floor you will ever need !
For more information on Puma-CreteTM ,  check out this brief video:
Puma-CreteTM will help your plant meet strict quality guidelines, which are mandated by the new Food Safety Modernization Act (FSMA), customer food safety audits, SQF and HACCP rules.
It is USDA approved and FDA approved.    This is heavy duty industrial flooring which is chemical resistant, and features a hygienic, sanitary surface. It is also  anti microbial flooring which inhibits the growth of bacteria.  This seamless, sanitary, non-porous floor finish is easy-to-clean, and it will ensure that you will pass your food safety audits with flying colors!
Featuring an easy-to-clean, slip resistant texture, and sanitary finish, Puma-CreteTM  may be installed with options such as:
Sanitary cove base
Trench Drains
Topcoat with enhanced cleanable and gloss surface.

Topcoat available in twelve colors.
For more information on our  Puma-CreteTM bakery flooring, please contact a project consultant, for further information at 800-808-7773